ASK A MOM: Holiday stress and how to give back this season
WBTV's Molly Grantham tackles your parenting questions in this ongoing series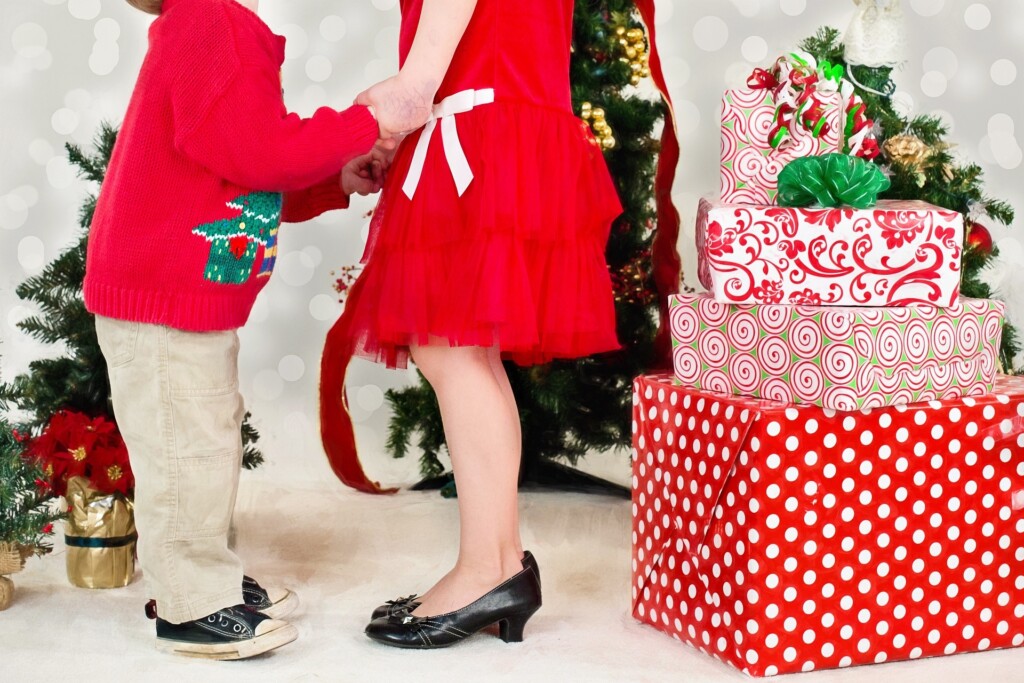 Q: Hi, Molly. I have four kids under age 10, and I feel like I have nothing fun to offer them. All I do is yell at them to pick up their toys or hurry up and get ready for school or quit bickering with each other. I'm feeling so tapped out, which is the opposite of how I should feel at the start of the holiday season. How can I make Christmas magical and memorable for them when all I want to do is take a kid-free vacation?—Nithya
A: Nithya—are you in my mind? Right there in the forefront, speaking a language in which I wish I wasn't fluent?
All those with young kids doing all the things this time of year are on a countdown to the moment we get a break. Is it Christmas Eve, when the house is quiet? Is it Christmas morning, after clean-up and family time? Is it January, when the kids go back to school? No one knows. The target moves. We just know Publix commercials can bring tears, walking into neighbors' homes that smell like holiday candles make us hate our messy homes, and Christmas cards of other perfect-looking families leave us feeling inferior.
Only, you are not inferior. I am not inferior. You and I are no different than any other parent trying to get it all done, and not raise brats in the process.
The solution: Talk about it. Cop to the feelings. Admit you'd hypothetically like things to be magical, but truthfully just pine for kid-free time. It's okay. We're meant to have other missions besides creating (often) under-appreciated "moments" for our kids. It's the season of giving, after all, and in the words of one of my best friends from college, Beth, "If it's the season of giving… then give yourself a break."
After being honest about how you feel, see if you can schedule an afternoon or overnight for YOU. If you want to bring a spouse or partner, great. Make it a date. But if not, time alone is also beautiful. The only rule for this kid-free break is that you can't do any checklist-checking-off or erranding. You're not allowed to spend the entire time on your phone. Book a weeknight in an uptown hotel, an afternoon to go to a movie, or two hours where you hire a sitter or do a kid-swap with a neighbor to give yourself space to breathe. Having hours away without your loving littles will only make the time back with them feel better.
For added proof (comfort?) that you are not alone in feeling tapped out, I sent your question to a string of college girlfriends in a text. Here's more truth-telling from Beth, and also Elizabeth, Kate, and Mary Kathryn. (In Atlanta, D.C., Baltimore, and Boulder, Colorado, respectively. These feelings have no boundaries.)
Beth: "Four kids under age ten is harder than any job. Tell her to just be nice to the oldest because they're the only ones who have a shot at remembering. Then, just survive. Load them up with hot chocolate and take a couple of kinda cute pictures. One set of pictures with semi-smiles, and you're done."
Elizabeth: "I have a long list of examples to make this mom feel better. Tell her I usually walk in fried from my day, yell at everyone for a variety of reasons while not-fielding-work-emails, retreat to my room to attempt a Ross Rayburn Peloton mediation for 10 minutes, emerge, and apologize to my whole family."
Kate: "My mom won Christmas. I can't compete with my childhood memories. Every year I am embarrassed about our house, which needs a lot to structural work and a decorator, my presents are never quite right, and if I get Christmas cards out, there is a typo in the card, I haven't ordered enough, and half will be returned-to-sender because of a wrong address. There is no family picture because my kids' clothes aren't ever ironed and church is a constant last-minute call, so I also feel like I've pissed off Jesus. Each year I think about how I wish my kids had the Christmas I did. Until last year. Here's what happened in 2021: Somehow, even though I suck at Christmas, I, as the oldest granddaughter of 22 grandkids, inherited taking over Christmas Eve celebration for my dad's big Irish family. All 30 people at my house. I decided not to care what my house looked like. I ordered catering delivery and had people chip in for booze. I bought a cheap game at Target where someone wore an Elf hat and other people threw rings on it. My parents came early to set up, so I could go to church and pray for serenity. During the party, there was SO MUCH CHAMPAGNE. We went ridiculously late. Neighbors started showing up because it wasn't raining and I'd ordered too much food, so we still had plenty to eat. As midnight approached, I knew we had to think about the next day, but was slightly blitzed… so… I put one child to bed in his Christmas Eve sweater, and my aunts and uncles got out the presents. They missed, they said, having little kids. And though in the blur of the evening I forgot to tell them where some of the gifts were hiding, I was reminded the next day how the kids don't even love the gift you thought was perfect, they love a random gift you didn't think much about. Lesson here? If it's messy, embrace the mess. Own the 'embarrassment'—kids are happier when you're making mistakes anyway. Then remember other moments that feel better. I might suck at homemaking. And magic. That's the truth. But I'm really good at helping with homework and listening to my kids when they're down about something. I can also tell a damn good dirty joke. Older I get, the more I realize it's okay to be who we are and not something we aren't. Life would be pretty boring if we all had the same skill set."
Mary-Kathryn: "I have three kids over 2-and-a-half years. 'No, you can't just leave dishes in the sink—wash them! Put your shoes in the closet! Hang your jacket! Close the kitchen drawers! Do NOT punch your sister! Feed the dog. Yes, the dog needs a walk every day!' Holidays are no different. My sweet little gremlins don't miraculously turn into obedient, selfless children. In order to manage the constant broken record of commands in a season meant to bring out the best, I practice these following few things, with the hope my kids remember a few small rituals, rather than a time we adopt expectations that our children are more mature than they really are:

Don't start "celebrating" until at least the second week of December.
Max, our elf, disappeared rather suddenly (COVID complication? Doesn't matter. Max is GONE.)
We only do certain activities this season:
Making dipped cookies and sprinkling with holiday decorations. Not from scratch.
Watching a Christmas movie together and drinking hot chocolate beforehand. No spills on furniture.
Making gifts of "stuffed" socks for our unhoused in town and delivering them.
Having a gratitude jar at the table. 
Stuffing Christmas cards into envelopes, sealing/stamping them. Family affair. Mom needs help. 
Having a cheap store-bought advent calendar, with a piece of chocolate hidden. Kids love pre-breakfast sweets. 
Dressing our dog in various Christmas costumes. 
Again, Nithya, remember: You're not alone. Ask those closest to you for their comforting stories and what's driving them crazy during this "Most Wonderful Time of the Year." One text string question on behalf of you to 14 girlfriends across the country, and I was laughing for days.
Q: Hello, I'm a single mother with two children, looking to volunteer with my children to help those in need in our community. I'm looking for something that we can all do as a family. Any ideas? Thank you. –Anonymous
A: There are so many good options. Really glad you asked.
I reached out to Share Charlotte, a one-stop shopping that works with 627 nonprofits in Charlotte. You can go there year-round to easily find a charity to help, that speaks to you. (Find them on IG and FB at @ShareCharlotte)
Its website currently has "458 volunteer opportunities for you, your family, friends and coworkers to share your time and talent." In other words, volunteering instead of donating. Julie Campbell, Director of Community Partnerships, sent me these after a 5-minute search:
Host a Snack / Toy Drive for Pat's Place
Grocery & Meal Delivery Drivers for Loaves & Fishes / Friendship Trays 
On-Site Gift Wrapping for Diaper Bank of NC
Stock the Pantry for Mom's Moving Forward at Freedom Communities
Put Together Bath Baskets for Furnish for Good
Making Flashcards for Champion House of Care
If you'd like to filter for volunteer opportunities for families with children ages 5-12, go here.  For opportunities for families with children ages 13-17, go here. For each of these filters, visitors can also click "who it helps" and then "causes" to further narrow their search.
Other ideas not through Share Charlotte? Have your kids make cards for pediatric patients. Either one of the two major Children's hospital systems in our area—Levine Children's and Novant Health Hemby Children's—will be filled with kids this holiday season. If you don't want to worry about dropping them off, have your kids go with you to your pediatrician's office to leave there as a general lesson about helping others.
I also liked the idea from Mary-Kathryn, one of the people who gave a great answer to the first question in this column. She mentioned making gifts of "stuffed socks" for those without homes. Drop them off at shelters, who can distribute accordingly.
Or, if you'd like to have good conversation with your kids about keeping an open heart, I've taken my kids to Community Matters Café, outside of uptown. If you're not familiar with this Café, it's run by the Charlotte Rescue Mission. Employees are involved in its life skills program, which helps participants learn to cope with the pressures of staying drug-and-alcohol free. It's a beautiful coffee shop/breakfast/lunch place, with depth inside its walls. I sincerely loved taking my older children (ages 11 and 8) and talking to them in separate age-appropriate conversations about how lucky they are and how everyone deserves second chances.
Finally… this is not answering your question, but if you're just looking for general holiday family-friendly things to do around Charlotte this season, WBTV.com has compiled this list as well.
Such a great question. Truly. Thank you for asking.
Q: r u a real mom?
A: Um, yes.
And that, my friends, is a wrap on December and 2022. Please keep the questions coming, and if you're stressed out, ask those around you to be honest about how they're doing. Take comfort in numbers. I'm off for the holidays starting December 19, but will see you once again at 5 p.m., 6 p.m., and 11 p.m. starting January 2, 2023.
—Molly
MOLLY GRANTHAM is an anchor, author, and mom of three. Follow her on Facebook and Instagram, or catch her on WBTV News at 5 p.m., 6 p.m., and 11 p.m.