Arts for Kids: Children's Theatre of Charlotte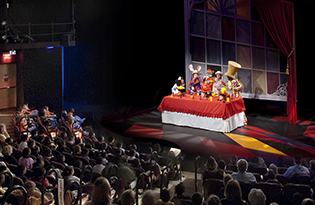 The dragon was 11-feet tall, 25-feet long, scaly and brown, and doubtfully breathed smoke puffs. No flourish of fire.
In less talented hands, he might have simply been a sideshow or an inanimate monster meant to be feared. But under the direction of Adam Burke, the dragon came alive with the help of the puppet maker, a talented actor and great puppeteer who played him, as well as a videographer who created a shadow puppet world for certain parts of the show.
"If the audience doesn't believe the puppet is alive then they won't learn to love him and if they don't learn to love him they won't care if he lives or dies, explains Burke, artistic director at Children's Theatre of Charlotte.
"The Reluctant Dragon" just happened to be the last main production for the Children's Theatre of Charlotte's 2013-2014 season, but like each of the shows before it, "we produced the most creative, professional, spectacular and touching theatre for our young audience," says Burke.
Each year, Children's Theatre of Charlotte mounts 15 professional adult productions for young people of all ages, with the curtain rising more than 600 times a year. Shows this past season included "Tarzan," "Balloonacy," "Miracle on 34th St." and "Petite Rouge: A Cajun Red Riding Hood."
The Junior League of Charlotte established children's Theatre of Charlotte in 1948 with its first plays being produced in local school auditoriums. In 1971, it transferred into the city-owned former VFW club. In 2005, it moved again to its current location, ImaginOn: The Joe & Joan Martin Center, which houses two theatre spaces – the McColl Family Theatre and the Wells Fargo Playhouse. It truly is a unique collaboration between the theatre and the Public Library of Charlotte and Mecklenburg County as it combines theatre, literature and programming for young people under one roof.
Burke says the organization's relationship with the children's library and its belief in creating a complete creative and cultural experience for a child is what sets this company apart.
To that end, Children's Theatre of Charlotte offers a wide range of education programs at ImaginOn, including summer camps for ages 3-18, and drama classes. Serious thespians may sign up for the School of Theatre Training and then go on to perform in On Stage.
The theatre is also home to the professional touring company, the Tarradiddle Players that has traveled the Southeast performing for more than 1 million people. It even offers a special Preschool Tour now for preschool audiences, hoping to introduce a love of live performances to even the youngest children.