Artful Reads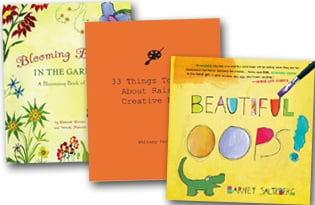 This collection of creative books will inspire kids to draw, paint and write. Each selection is filled with inspiration for the imagination.
"Beautiful Oops" by Barney Saltzberg
For any child who has ever torn a paper, smudged a drawing or spilled a glass of juice, this book will delight and reassure. Every "oops" is worth exploring and could become something beautiful. The interactive book with foldouts, flaps and holes, is filled with colorful illustrations and positive words.
"33 Things to Know About Raising Creative Kids" by Whitney Ferre
Written by a creativity expert as featured on HGTV and DIY networks, the book helps parents understand, organize and link creative thinking into a child's everyday activities. Each of the 33 tips, such as "keep blank paper around," remind us to open the door to creativity, as well as develop and model it in our everyday lives.
"Blooming Buddies in the Garden: A Blooming Book of Verse" by Deborah Donner and Wendy Peterson
April is Poetry Month, and this book is a great read-aloud for young children. Enter the magical world where fanciful flowers lead you through fun-filled gardens. This book is filled with colorful, stylized flower drawings with almost lifelike qualities.