April Showers Means Games for Hours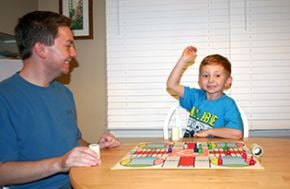 When the April rain is heavy or it's too wet to go outside and play in the backyard, as a parent you have a few options. While I would prefer everyone take a nap, that rarely happens. If my boys had their way, they'd veg on the couch with the "Turbo" movie and Star Wars Angry Birds on the iPhone for hours, ad nausem. In moderation, those things are fine.
The rainy day go-tos in our house are board games and card games. My wife and I love game shows, so gaming is in our blood. When Tyler, our oldest, turned 3 we started playing board games. My beautiful bride says the real reason we got immersed in games was because she was sick of playing cars with us. Family game night isn't a once a month event, we play some sort of game almost every day, even if only for 10 minutes. We also started taking card games with us when we go out to eat. The boys are much more engaged and talk a lot more about their day when you are playing cards than when they have their face stuck in a screen. You also get fewer nasty looks from other diners.
There is some sort of law that's been in place since the 1960s that your child's first board game must be Candy Land. If you don't buy the Milton Bradley classic, King Candy and half the cast of "Wreck It Ralph" will haunt you. By the way, in the game it's "King Kandy" with a "K" and in the movie candy is spelled with a "C." I assume Candy Land is the classic choice for a first game because it requires no reading. If you're looking for good early card games, you can't go wrong with Go Fish and Uno. You may need to lose some of the skip and wild cards at the beginning to make it easier.
Fast-forward two years and our closet is filled with no less than two dozen games. We have other classics like Chutes and Ladders and Operation along with newer games including Sorry!, Sliders, and Pop the Pig. I have also given in and allowed Tyler to get a couple of Angry Birds board games. He's gotten better at building things and following directions thanks to those. Over the course of our game nights, my wife taught Tyler and me how to play Parcheesi. I have no idea how I missed that one growing up.
While initially it was intended as a simple family-bonding experience, game time has become much more. It's a great educational piece. From counting to reading to reasoning and risk taking, board games have been a useful tool in the preschool years. Candy Land is great for colors, Zingo for reading, and Hi Ho Cherry-O for motor development. Like most kids, our two boys struggle with taking turns, patience and working together. Playing games has helped them make strides there too.
Thanks to playing games, Tyler was all-in-all a good sport before we even stepped on the tee-ball field. He had a good sense of winning and losing, and how to handle disappointment. It doesn't hurt that Tyler still beats me in Yahtzee Junior 85 percent of the time. We did have to have a talk about his cheating during Go Fish and Crazy Eights. He pretended he didn't have the cards I was looking for, meaning he may make a really good Poker player one day.
Win or lose, through all of our game playing our boys have learned that the reason Daddy loves games is the play itself, not the win. The rainy-day nap can wait; I've got two boys who say we have some Hungry, Hungry Hippos to feed.
Derek James is a host on WCCB News Rising, and lives with his wife and two sons, ages 3 and 5.