Apple Impromptu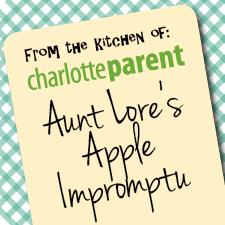 Aunt Lore's Apple Impromptu came to me from the kitchen of my aunt, Lore Edidin, and is the fruit cobbler of fall. Aunt Lore and her mom, Charlotte Bauer, taught me lots about cooking, and this is one of the first desserts I ever learned to make, which I still love to this day.
Originally the Impromptu was made with apples only, but then I found that pears add a nice balance of flavor. Ground ginger is called for in Aunt Lore's original recipe, but sometimes I substitute ground cardamom for a bit more spice with a hint of lemon, or I use minced fresh, locally and organically grown ginger from Windcrest Farms instead of the dried variety.
Ingredients
5-6 Granny Smith or Winesap apples, peeled and sliced
1/4 cup sugar
Cinnamon
1 teaspoon ground cardamom or fresh minced ginger
2 tablespoons butter
1 cup sugar
1 tablespoon vanilla
2 eggs
1 cup all-purpose flour
1 teaspoon baking powder
Crème Chantilly (whipped cream with vanilla)
Preparation
Slice apples and arrange in a buttered baking dish, then sprinkle with cinnamon, sugar and cardamom or ginger. Cover the pan tightly with foil and bake in a preheated 400-degree oven for 20 minutes.
In the meantime, cream together butter and sugar. Add vanilla and eggs, and then stir in flour and baking powder. Spread the pastry mixture over the hot apples. Return to oven and bake, uncovered, 20-25 minutes longer or until golden brown.
Top with Crème Chantilly; serve warm.
> View more pie-like recipesÂ