Apple Dumplings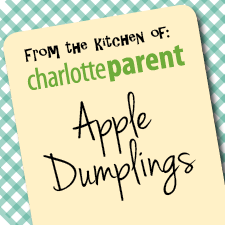 Apple dumplings are a fun variation of pie. My best friend in high school, Kathy Frazier (now Kathy Beeson), shared her apple dumpling recipe with me. We made these at sleepovers, where raiding the fridge for a midnight snack was more fun than getting a good night's sleep. These are fantastic served hot with a scoop of ice cream on the side.
Ingredients
6 tart locally grown N.C. apples
Filling:
1/2 cup sugar
1/2 cup ground cinnamon
1/2 cup your favorite ground nuts (optional)
6 teapsoons butter
Dough:
2 cups all-purpose flour
1 teaspoon salt
2 teaspoons baking powder
3/4 cup Crisco
1/2 cup milk
Sauce:
2 cups sugar
2 cups water
1 teaspoon cinnamon
1 teaspoon nutmeg
1/4 cup butter
Preparation:
Preheat oven to 350 degrees. Peel and core apples starting at the stem end and going almost all the way through, but stopping just short of the blossom end. Fill the hole in each apple with the mixture of cinnamon, sugar and ground nuts, if you would like. Place a teaspoon of butter on the top of each hole. Reserve.
Combine the sauce ingredients in a medium sauce pan and stir to combine. Bring to a boil; cook for 5 minutes until thick. Reserve.
Prepare the dough by combining the list of ingredients until smooth and then divide into 6 balls of dough. Roll each ball of dough out into a circle large enough to encase the stuffed apple. Seal dough around the apple and place the apple dumplings, stem side up, in a deep 9-by-13-inch baking pan. Pour the sauce over all.
Bake in preheated oven, letting mom or dad or another adult help baste every now and then with the sauce from the pan (the more they are basted, the better they are). Bake until golden brown.
> View more pie-like recipesÂ