An Apology to My Youngest Son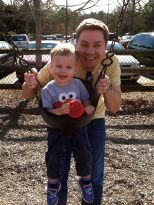 I am the youngest of four kids. I'm also an "oops baby" so I'm more than ten years younger than my siblings. Some would argue that makes me more of an only child than the youngest, but I seem to have a lot of the characteristics of a youngest: easy-going, friendly, lover of attention, spoiled brat. My youngest son Chase gets ready to turn two in a few short weeks. I felt this might be a good time to pre-apologize for all of the things that have and will happen to him because he's the youngest in our family and will likely stay that way (God willing).
Chase,
To quote a longtime pop music diva and judge of a now long-cancelled reality singing show called "American Idol," you will "Always Be My Baby." I'll tell you more about the downfall of that show (Nicki Minaj) at a later time. You know the short guy in New York on New Year's Eve who hosts the ball drop? He was also on that show. Seriously, your mom and I love you more than you'll ever know.
Having been the youngest of Grandma & Grandpa Wisconsin's kids, I too didn't like being referred to as a "baby." Something just happens when you become a parent that you have to say, "He's my little baby boy." I'm sorry that your mom and I called and continue to call you "our baby," long after your early years. I also must apologize for all the hand-me-downs. I don't just mean clothes. I'm sorry about giving you books with slightly ripped pages, cracked toys, sports gear, and everything else that was Tyler's before yours. I swear that If Tyler had trashed it and it was of inferior quality, it wasn't passed on to you.
You also may have noticed by now that your baby book isn't as full as Tyler's. We just didn't have as much time with two in the house and to be honest, we kind of overdid picture taking during Tyler's first year. A program called iPhoto on our computer would take several minutes to load because of the thousands of photos we took. I may not have as many photos of you as a baby, but I remember everything with you. How as a baby you laughed whenever mommy or I laughed. How you'd say, "I want froo snacks (fruit snacks)" over and over again for several minutes until you got them even though we were about to eat dinner. The way you always pose for the camera and dance no matter what music is playing.
I'm also sorry for the times we called you by the wrong name, compared you to your big brother, or ever made you feel "less than." I'm sorry my first two blogs for CharlotteParent.com starred your brother. None of it was intentional. Thank you for sharing the spotlight with your big brother. We love you both equally and always will.
Love,
Dad