American Girl Creates Diabetic Kit for Dolls
2016 Girl of the Year also released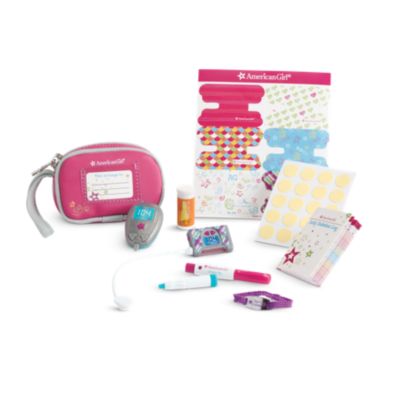 American Girl's mission is to create dolls and stories that "act as both mirrors and windows—giving girls an opportunity to see a direct reflection of themselves or a chance to learn about a life or culture that may be very different from their own." While American Girl offers accessories and products that align with that mission statement, such as a hearing aid, service dog, glasses, healthy smiles, wheelchairs and arm crutches, one Wisconsin girl noticed a void that could be filled.
"I know that if they made American Girl diabetic accessories it would make thousands of diabetic kids like me happy." This is what the now 13-year-old Anja Busse stated in a video she posted on her change.org petition asking for American Girl to design and distribute an insulin pump kit so that her dolls could be just like her. Four thousand signatures later, her wish has come true. The Diabetes Care Kit for Dolls is now available for $24 in stores and online. News about the kit quickly spread across the diabetes community.
The kit features a blood sugar monitor and lancing device, an insulin pump, an insulin pen, a medical bracelet, glucose tablets, a log book, a case for supplies, and stickers to add personalization.
In a similar vein, the company also offers an allergy-free lunch set for $28, which includes a pretend berry smoothie, a container of vegetables, two sandwich skewers, a medical bracelet and allergy stickers and a faux allergy shot.
In other related news, American Girl's 2016 Girl of the Year is inspiring young girls to embrace their passions and have the courage to be more adventurous. Lea Clark is described as "a talented photographer with a love for animals, who discovers a wide world of possibilities when she embarks on a faraway adventure to Brazil." The doll, available for only one year, is part of a collection that features toys and accessories that reflect her Brazilian travels. A new action/adventure film starring Lea will be released on DVD from Universal Home Entertainment this summer.
Photo courtesy of American Girl.
American Girl has also created Wild Art, a yearlong fundraising campaign in support of World Wildlife Fund (WWF). They are encouraging girls to use their artistic abilities to host an art sale and donate the proceeds to WWF. To launch the campaign, American Girl has made a $50,000 donation to WWF. Visit americangirl.com/wildatart for more information.