Almond Rounds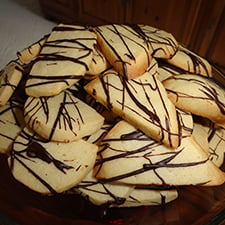 These cookies are appealing not only because of their flavor and texture, but also because the dough can be prepared ahead of time and frozen until ready to bake. This is particularly helpful when planning several dessert items for a buffet or party. These easy cookies are a great spring treat that will be a hit with all ages.
Ingredients:
1 cup butter, softened
1 cup sugar
5 egg yolks
½ cup finely ground, almonds
1 teaspoon almond extract
3 cups flour
½ teaspoon baking powder
¼ teaspoon salt
½ cup dark chocolate chips, optional
In a large bowl beat together butter and sugar at high speed until light and fluffy. Add egg yolks, almonds and almond extract; beat to mix. Combine flour, baking powder and salt in a small bowl. Gradually add flour mixture and beat on low speed until combined. Place half of cookie dough on waxed paper or parchment paper and shape dough into 1 X 15-inches roll; repeat with remaining dough. Wrap in freezer wrap and freeze until ready to bake. Slice cookies into 1/4-inch slices and place on cookie sheet lined with parchment paper. Preheat oven to 350 degrees and bake for 12-15 minutes or until lightly browned. Allow cookies to cool completely. If desired melt chocolate and drizzle on top of cookies.
Yield: about 36 cookies