Allergy-Friendly Dessert Spots in Charlotte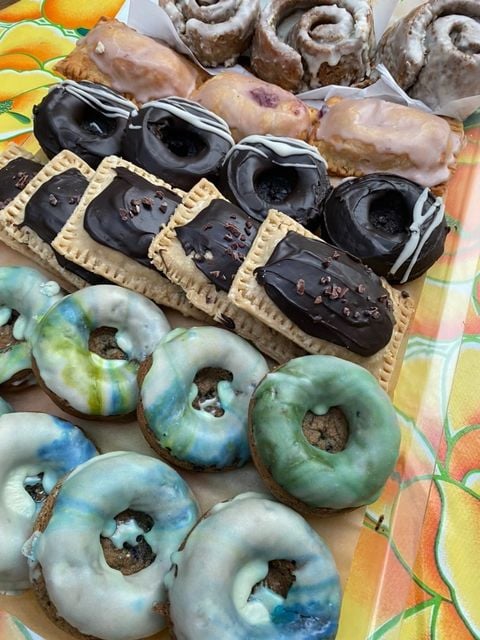 One in 13 American children have food allergies, which, according to Food Allergy Research and Education (FARE), equates to roughly two children per classroom. If you're a parent to one of these children, you know what a challenge it can be to find allergy-friendly snacks and treats. Below is a list to help narrow your search the next time your family needs a sugar fix:
Artisen Gelato, 301 W. John St., Matthews. This gelato shop serves "allergy friendly everything" and specifies that products are dairy-free, gluten-free, egg-free, and nut-free. The creamy texture and rich flavors keep those with and without allergies coming back for more.
Pelican's Snoballs, various locations in NC and SC. Find 100 frosty flavors at Pelican's Snoballs. According to the company's nutrition and allergen information, flavored syrups do not list gluten, "peanut, peanut derivatives, tree nuts, dairy or dairy derivatives, egg or egg derivatives, soy, wheat or wheat derivatives, fish, or shellfish." However, locations do not claim to be free of such allergens, especially due to toppings and other products served. Many locations are temporarily closed but will soon open for spring and summer.
The Local Scoop, 5355 Ballantyne Commons Pkwy. The Local Scoop's newest location opens later this spring in Matthews. For now, head to Ballantyne's Promenade on Providence shopping center where staff is trained on food allergies and able to answer any questions you might have. While the facility does use common allergens and therefore cannot make guarantees, it uses a thorough production, cleaning, and sanitization process to help avoid cross-contamination. Staff can also scoop ice cream from freshly opened containers as an added precaution.
Burton's Bar and Grill, 1601 E. Woodlawn Rd., Ste. A, and 9816 Rea Rd. This peanut-free restaurant serves a full menu of allergy-friendly options, which includes a drool-worthy key lime pie and gluten-free chocolate cake. Burton's recently placed in AllergyEats 2020 Top 10 Allergy-Friendly Restaurant Chains in the Small Chains category.
Cheesecake Carousel, 100 North Tyron St. For specialty, scratch-made cheesecakes, look no further than the corner of Trade and Tryon. The cheesecake dessert truck and mobile bakery serves vegan, gluten-free, sugar-free, and KETO cheesecakes, as well as ice cream. Find the "allergen friendly" section of the website, and ask about current flavors and options before your visit. Find the truck uptown, Wed.-Sat. from 2-8 p.m.
Cinnaholic, locations in Concord, Belmont, and Indian Trail. This bakery chain serves vegan products made in a dedicated vegan facility. Customize gourmet cinnamon rolls with your own toppings, but note that nuts, soy, and gluten are still present.
Move That Dough Baking Co., online. Have vegan and gluten-free baked goods delivered to your door or pick them up at 3102 Eastway Dr. Check Instagram for updates on flavors, availability, and additional weekend pickup locations, which often include Green Brothers Juice, Queen City Grounds, Play Joy, The Hobbyist, and Concord's Press and Porter. Nuts and soy are not commonly used, but customers may inquire.
SweetFrog, various locations, including inside Carowinds, 14523 Carowinds Blvd. Find a range of frozen yogurt flavors and toppings, as well as food allergies and sensitivities information online. Just be aware that many toppings contain common allergens. Dairy-free options are listed, including Dole Soft Serve products.
Bakery 28, 19905 W. Catawba Ave. #105, Cornelius. This new bakery has the eight common allergens in its rotation but accommodates special requests for those with food allergies. The Vegan Collection contains no gluten, dairy, eggs, or nuts; staff makes these treats with separate ingredients and tools and gets their own display case. Orders can be made just nut-free or just gluten-free as well. One designated chef makes these allergy-specified orders each morning before all other orders.

SWIRL, 1640 Oakhurst Commons Dr., Ste. 103. Find gluten-free and vegan cupcakes daily, plus a gluten-free flourless chocolate cookie, a gluten-free peanut butter cookie, a vegan snickerdoodle cookie, and a gluten-free Nutella Smashwich Cookie. All of SWIRL's ice cream is gluten-free, too.
Be sure to double-check with restaurants and bakeries before to ordering to make sure menu items have not changed and cross-contamination can be safely avoided. Sensitivities to specific allergens vary and should be discussed with your child's allergist.
Those dealing with food allergies are not alone. Parents of Allergic Kids (PAK) is a Charlotte-based organization that offers education and support. Join the PAK Facebook group for discussions of additional allergy-related topics.