ALA Announces 2016 Youth Media Award Winners
First Latino author receives Newbery Medal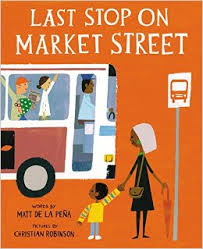 Looking for some new children's books to add to your home library? The American Library Association announced their 2016 Youth Media Award Winners on Monday. Here are a few highlights:
John Newbery Medal for the most outstanding contribution to children's literature:
Last Stop on Market Street by Matt de la Peña. Illustrated by Christian Robinson and published by G.P. Putnam's Sons, an imprint of Penguin Group (USA) LLC.
Every Sunday after church, CJ and his grandma ride the bus across town. But today, CJ wonders why they don't own a car like his friend Colby. Why doesn't he have an iPod like the boys on the bus? How come they always have to get off in the dirty part of town? Each question is met with an encouraging answer from grandma, who helps him see the beauty—and fun—in their routine and the world around them.
De La Pena is the first Latino author to ever win the Newbery Medal.
Randolph Caldecott Medal for the most distinguished American picture book for children:
Finding Winnie: The True Story of the World's Most Famous Bear by Lindsay Mattick. Illustrated by Sophie Blackall and published by Little, Brown and Company, a division of Hachette Book Group, Inc.
In 1914, Harry Colebourn, a veterinarian on his way to tend horses in World War I, followed his heart and rescued a baby bear. He named her Winnie, after his hometown of Winnipeg, and he took the bear to war.
Harry Colebourn's real-life great-granddaughter tells the true story of a remarkable friendship and an even more remarkable journey–from the fields of Canada to a convoy across the ocean to an army base in England…
And finally to the London Zoo, where Winnie made another new friend: a real boy named Christopher Robin. This is the remarkable true story of the bear who inspired Winnie-the-Pooh.
Coretta Scott King (Author) Book Award, recognizing an African-American author and illustrator of outstanding books for children and young adults:
Gone Crazy in Alabama by Rita Williams-Garcia. Published by Amistad, an imprint of HarperCollins Publishers.
"Gone Crazy in Alabama" tells the story of the Gaither sisters, who are about to learn what it's like to be fish out of water as they travel from the streets of Brooklyn to the rural South for the summer of a lifetime. Delphine, Vonetta, and Fern are off to Alabama to visit their grandmother, Big Ma, and her mother, Ma Charles. Across the way lives Ma Charles's half sister, Miss Trotter. The two half sisters haven't spoken in years. As Delphine hears about her family history, she uncovers the surprising truth that's been keeping the sisters apart. But when tragedy strikes, Delphine discovers that the bonds of family run deeper than she ever knew possible.
For a full list of winners, visit the American Library Association website.