Ain't No Fairy Like The Paci Fairy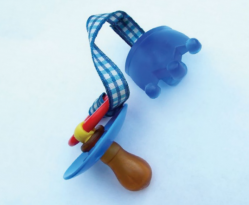 When my youngest son Chase turned 3, my wife and I had two major goals for him. We were going to say goodbye once and for all to his pacifiers and diapers. For almost a year the pacifier had only been for bedtime, and Chase had been occasionally peeing in the potty at home and school for a few months. Getting rid of the paci was much easier than the diapers. More on that next month.
If you haven't heard of "The Paci Fairy," odds are you don't have a child younger than 5. It's the most guilt-free way to get your little one to lose the paci. While our parents made us go cold turkey, we decided to go the easy route. The story explains that the fairy takes pacifiers from little boys and girls who don't need them anymore to give them to the babies who do. It's not that simple though. In exchange for your little one's paci, the fairy offers a bribe, er, toy. Big brother Tyler got a toy lawnmower a few years back.
We started reading the book a couple months before Chase turned 3 so he understood the story and to warn him that on the night of his birthday, the paci fairy would be visiting. Tyler helped us sell the story to Chase so that by the time his third birthday rolled around we were ready. "It's awesome Chase! The paci fairy brings presents," he would say.
After reading the story again that night, all the pacis went into an envelope and were left outside for the paci fairy. It's amazing that all of the pacis that seemed to have disappeared over the previous three years suddenly showed up. We used to spend 20 minutes trashing the house just to find one. Chase said "bye bye pacis" and that was it. No major complaints that night.
The next morning Chase woke up to find that the paci fairy had brought him a Perfection Game and some Batman stuff. That night, when it was bedtime Chase asked me for his blue paci, which was always the favorite. I reminded him that we gave all the pacis to the paci fairy because he was now 3 and now longer "a baby." He looked at me, paused for a moment and said, "Tell her I want them back." I laughed, and then told him that we couldn't do that because he was a big boy now. He cried for a while that night. Then I could hear him on the monitor pleading softly, "Come back paci. Paciiiiiii. I need paci."
Since then, there's rarely been any mention of the paci. When he falls down and gets hurt or is scared, paci has come up a time or two. I know we probably let him have the pacifier longer than we should have but it doesn't appear to have caused any earaches or dental problems. No one wants their kid's teeth to resemble Charlie Sheen's and we have the paci fairy to thank for that. Now if only there were a potty fairy.
WCCB News Rising Co-Host Derek James balances a full-time job in the glamorous world of television news (including a 2 am wake up and stale coffee) along with managing chaos every afternoon for 5-year-old Tyler and 3-year-old Chase. See more from Derek on Facebook, Twitter and on Vine (derekjamestv).