Age-By-Age Fitness Strategies for Kids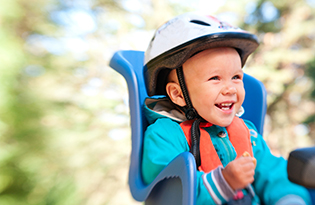 Childhood may seem to move at a faster pace these days, but children don't. New research from the American Heart Association shows that today's children are slower and less fit than their parents were: Kids today take about 90 seconds longer to run a mile than their predecessors did 30 years ago, and children's cardiovascular fitness has dropped 5 percent per decade since 1975. This problem isn't confined to the United states, either. According to the World Health Organization, up to 80 percent of the world's children aren't getting enough exercise.
You can reverse this troubling trend at home, though. These family fitness tactics for kids of every age will help your brood tackle the New Year with better health, improved energy, and more fun.
2-5 Years
Family Flex
The good news: Toddlers usually get plenty of exercise, says Beverly J. Allen, professor of physical education and recreation at North Carolina Central University in Durham. "Children this age are very active and get the exercise they need from running, jumping, climbing, rolling, bending, pulling, pushing and dancing." Help preschool-age kids get physical by playing tag together, wrestling and asking kids to put away toys one at a time, or ferry items up and down stairs. Very young kids shouldn't follow along with their certain grown-up workouts, says Dale Speckman, director and head trainer at Athletic Revolution of Northeast Indianapolis. "Young children simply aren't ready for high repetition, high intensity workouts like jogging or interval training," he says. If kids want to work out with you, do some simple exercises with their own body weight like lunges, planks and squats.
6-12 Years
Unsportsmanlike Conduct
For kids who like sports, the elementary years bring a whirlwind of new opportunities to stay active, from soccer to softball. But less athletic kids may begin to shirk exercise, particularly if they feel inept at sports. Fortunately, competitive sports play isn't the only way kids can get needed exercise, says Allen. Parents can encourage kids of all stripes — sports lovers and sports avoiders alike — to get enough exercise by establishing a regular family outing, like ice-skating, swimming or a long outdoor walk, visiting parks and public spaces where kids can be active, and exploring less competitive physical pursuits like biking, skateboarding and gymnastics. Whatever pastimes kids gravitate toward, it's important for parents to model that physical activity is enjoyable, says Allen. "Make sure kids have access to fun equipment like skates, Frisbees and hula hoops. And remember that physical activity is important for all children, including those with a disability. Your child's pediatrician can tell you more about the amounts and types of physical activity that are appropriate for your child's ability."
13-18 years
Safe 'Shred'
Trend-loving teens may hop on the latest fitness bandwagon to attain a "shredded" (teen-speak for well-defined or muscular) physique. But high intensity work outs like CrossFit and P90x aren't suited for teenagers, says Speckman. "CrossFit utilizes many Olympic-style lifts that are extremely technical and require high levels of joint mobility and stability. These technical lifts take several weeks to teach in order to perform safely and effectively." Sport injuries are on the rise in children and teenagers, something experts attribute to early sport specialization and teens with still-growing bodies performing too many repetitions — something CrossFit may encourage. Parents of young fitness enthusiasts should seek trainers that are certified in youth fitness. Even if a trainer has a background in strength or sports training, youth training is vastly different and should be left to a certified professional.
Malia Jacobson is a nationally published health and parenting journalist and mom of three.