Advocating for Your Child at School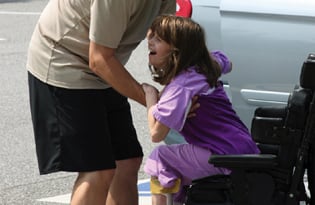 Like most parents, you most likely take an interest in monitoring your child's progress in school. Having a child with a special need, however, can take the school relationship to a new level.
Now that you have the school routine down pat, how can you make sure your child will have a year-long positive educational experience without being a nag and driving everyone at his or her school crazy? Consider the following tips when advocating for your child's needs in the classroom or the cafeteria, or on the playground.
Communicate
Connecting with your child's teacher is key to building a positive relationship. At the beginning of the school year, you probably met with the teacher to explain your child's specific needs — whether dietary, behavioral, educational or medical. Be sure to continue to discuss those needs that are outside of the education plan that may already be in place. Start a daily or weekly communication system; some parents find it helpful to use a spiral notebook to write messages back and forth between home and the classroom. Being aware of your child's school day activities will help keep you one step ahead of any issues that may arise.
"Communicate frequently with your teacher in a way that is best for him or her (e-mail has been very convenient)," suggests Denise Clark, who is the parent of a child with special needs, as well as a Charlotte-are certified therapeutic recreational therapist.
Volunteer
Another way to stay in touch with how your child is doing at school is to volunteer in the classroom. "Volunteering in the classroom, or chaperoning a class trip, also will help you get to know the teacher better, as well as allow you to observe your child first hand," says Amy Borrell for Scholastic Parents at www.scholastic.com. The teacher will get some much-needed help, and as a parent, you will get a clear picture of your child's interaction with other kids. In addition, this may be a good opportunity to model some of the tips you provided to the teacher at the beginning of the school year.
Reassess
Continue to look at your child's list of needs throughout the school year. Sometimes parents have a long list of accommodations for their child, and while the teacher and staff have every intention of honoring your wishes, when the school day is under way things might not actually happen as you had envisioned.
"I have learned to prioritize my concerns …" says Christie Cook, the mother of a child with special needs and an early childhood educator.
Revisit your list of special accommodations regularly and cross things off when you can. Your child's safety, health and academic needs should take top priority, and then decide what you can be flexible about in other areas.
Network
Parents may find it helpful to enlist the help of other parents of children with special needs at their school. Valuable resources are exchanged through networking interactions, such as information on after-school programs, educational websites and community resources. Networking also can provide parents with ideas on how to handle different concerns at school.
If you are struggling with a school concern that is more complex or involves federal education regulations, seek the advice of professionals who offer guidance in this area. One valuable statewide education resource is the Exceptional Children's Assistance Center (www.ecac-parentcenter.org) in Davidson. The ECAC is a free resource to parents that can provide education-based print materials, as well as training programs and workshops. Their parent center hotline (1-800-962-6817) is staffed with parents who can offer information on various education related topics.
Advocating for a child at school can put many parents out of their comfort zone.  Remember to convey your child's needs in a clear and unemotional manner. Work together with your child's teacher and school staff. Volunteer your time, too, if you can and be realistic about your expectations.
Sandra Ringelstein is the parent of a child with special needs and the executive director of the Family Support Network of Mecklenburg County. www.fsnnc.org.