Adventures in Learning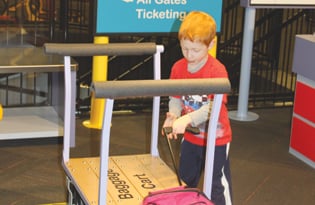 It's a place where budding imaginations can run wild, and that's why Discovery Place KIDS is a big hit with young children.
As a mom of three children under age 5, I view a visit to Discovery Place KIDS (and we go there a lot!) as an education in independence and exploration. There, my children take charge of their own experiences. Though self-directed play, they navigate through the exhibits, choosing the one's that grab their interest on any given day. On the surface it may seem like just play, but I known my kids are little sponges soaking up information about the world around them.
With exhibits modeled after a town, the Huntersville children's museum boasts 24,000 square feet of space for kids to charter familiar and unfamiliar territory. From a supermarket and a café to the depths of the sea, there's fun and discovery around every corner. It's a real-life Mr. Rogers' neighborhood.
Executive Director of Discovery Place KIDS Debbie Curry says the child-friendly exhibits are designed around an "I Can" concept, which encourages curiosity, confidence and learning.
"Play is one of the most natural ways young children learn and make sense of the world. When children are playing, they are more likely to take risks, try new things and develop their creative abilities, without even realizing they are doing so," she says.
Let's Pretend
The "I Can Work" exhibits allow children to role play in the careers of firefighters, paramedics, veterinarians and bank tellers. In this supersized game of pretend, my children enthusiastically create their own stories with the help of career-specific props, which often spark curiosity and "why" questions. As a result, my children are increasing their vocabulary and knowledge of how things work. In the vet's office, they experiment with a microscope by can looking at tiny pieces of animal specimen, and they hold X-rays up to a light to compare the bones of various animals. In the ambulance, they learn about the medical instruments paramedics use to save lives.
Exploring the Sea
Underwater adventure is the focus of the "I Can Explore" exhibit. Low lighting and dark interiors make it even more exotic to kids. This area introduces them to marine science and sensory experiences. Climbing and crawling through a shipwreck, a coral reef, the mouth of a whale and the back of a dolphin help builds kids' gross motor skills. The beanbag game allows them to practice hand-eye coordination, as they toss the bags into the holes on a giant octopus.
The submarine, with plethora switches and buttons, is irresistible to my kids — they can press and flip away without me asking them to stop. They look through a monitor to observe sea life. They hear the beeping sounds the submarine makes, and they hear and feel the propeller fans blowing air.
From Farm to Table
Some of the busiest exhibits are in the "I Can Be Healthy" area. My children flock to this area, because they revel at the chance to do everyday activities they see grownups do. They cook, clean and operate a cash register in the café. In the supermarket, they push carts and make decisions about which foods to purchase. These exhibits prompt social interaction between children, and valuable lessons about sharing and taking turns are reinforced.
My children especially enjoy playing in the farm area, where they can milk a cow, gather eggs in a chicken coop, pull corn from stalks and pick apples from a tree.
In today's society, fewer people grow their own food. These activities help young children understand that food doesn't instantly appear on a grocery store shelf. They learn people must work to grow crops and raise animals to provide us food.
Autos and Airports
Youngsters learn about transportation and motion in the "I Can Move" exhibits. My toddler and preschool twins race to the auto shop, where they tinker under the hood of a car, change tires and repair mufflers. I see my children developing fine motor skills, as they use a wrench to remove and tighten bolts on tires. Being able to line up holes on the tire with the bolts is an exercise in coordination for young children.
The airport on the museum's upper level also is a popular attraction. It's amazing to me what my children have learned about how an airport operates without ever visiting a real airport. They understand that security gates can beep when you walk through them. They now know that luggage moves on a conveyor belt, because they've turned a knob to move a conveyor belt with suitcases.
Though not yet readers, my preschoolers also have learned how airports post flight times and destinations, because they've arranged magnets with times and cities on a board exhibit.
North Mecklenburg is fortunate to have an educational venue of this caliber in its own back yard. With all the children's entertainment venues and activities out there, I'm delighted to hear my children say, "Can we go to the museum for kids today? Pleeeeease!"
Holly Becker, mom to twins Mila and Elijah, 4, and Siler, 2, is a freelance writer in Davidson.