Adult Programming at GiGi's Playhouse Charlotte
Helping plan for your child's post-graduation education.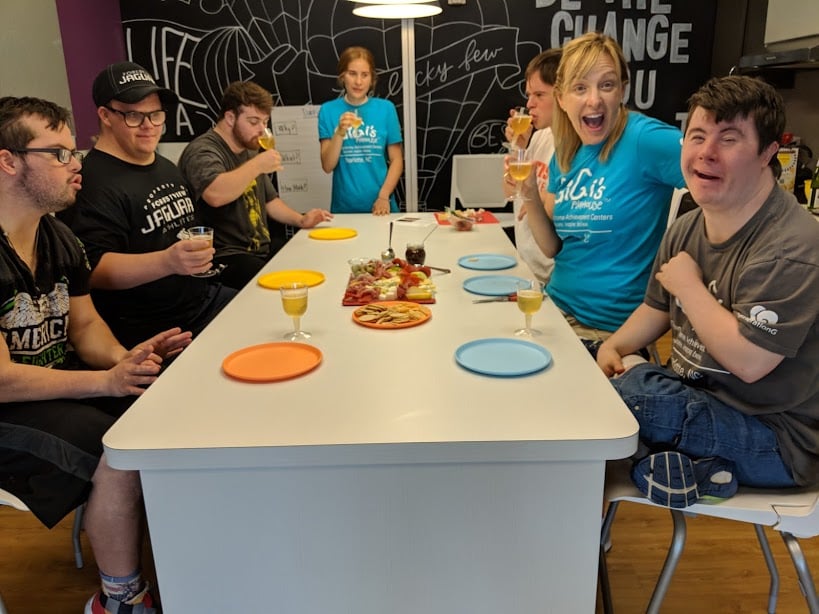 I'm a middle school mom, but that doesn't mean I'm focused on middle school dances and looking forward to high school. I'm not planning for an empty nest in five years. I'm a middle school mom to students with special need, and that means that I don't have the luxury of following the traditional path to independence. To tell you the truth, I'm freaking out a little bit here, because in five years I will have two boys who likely will need a place to spend time when school is no longer an option.
This is the looming future for a wide range of needs, but Down syndrome is our specific game. That's what makes GiGi's Playhouse Charlotte such a huge beacon on my radar right now. If you haven't had the pleasure of visiting GiGi's Playhouse Charlotte yet, or you haven't been accosted by a die-hard GiGi's volunteer, here's a quick run down:
GiGi's Playhouse is a part of a network of brick-and-mortar locations throughout the United States and Mexico that offers free therapeutic, educational and career programming for individuals with Down syndrome from birth to adulthood. This nonprofit is volunteer run and donor driven, answering the community need for purposeful, progressive education to bridge the gap between home and community for families who have children with Down syndrome. If you are interested in participating in a class or volunteering to help, you can visit the online calendar for the class schedule, or stay in contact through Facebook or Instagram.
Take a look at the FREE programming that is happening right now for adults with Down syndrome at GiGi's Playhouse Charlotte, and also some programs that are on the horizon:
Fantastic Friends: Supports the development of social skills and language through peer-to-peer interaction in a casual and fun setting. Along with their peers without Down syndrome, adult participants participate in the planning of activities so that group activities are based on personal interests. During Fantastic Friends, the group may participate in active games, dancing or exploring their local community by participating in outings and events.
GiGiFIT Adult: Combines physical therapy with a strong fitness focus. Specifically addressing hypotonia and excessive joint laxity, the GiGiFIT programs are safe, effective and progressive. Building strength, endurance, power, stability and movement control, GiGiFIT empowers individuals with Down syndrome to be more independent and confident in their abilities while improving overall health and wellness.
GiGi's Kitchen: Designed to emphasize the importance of health and wellness through nutrition education, kitchen safety, food preparation, social activities and a shared meal/snack. Under the guidance of program leaders, participants learn about and progress through skills including measurements, food handling, knife skills, ingredient identification, palette expansion, and nutrition. Participants are introduced to various cooking techniques. GiGi's Kitchen program builds participants self-esteem and self-confidence through nutrition and wellness.
GiGi Prep (coming soon!): The GiGi Prep program has an emphasis on building communication skills, money management, customer service skills, team building and wellness. This program is an application-based program with high expectations to motivate adults with Down syndrome.
GiGi's Career Development Programs (future programming in Charlotte): The career development programs prepare adults with Down syndrome to gain meaningful employment or volunteer opportunities in their community. These programs teach Confident U. Healthy U. Whole U through communication, work habits, job skills, fitness and nutrition. These programs promote an environment of inclusion and acceptance for individuals with Down syndrome.  Recommended for ages 18 and older.
Not only is GiGi's Playhouse Charlotte leading the way in free programming specifically for individuals with Down syndrome, I'm seeing a trend in supported employment for individuals with special needs, post-graduation programming and college options. It's enough to ease my special-needs-mom anxiety for now, but talk to me again in 5 years.
Laurie Maddex, M.Ed, is a parent advocate and former educator. Her 10-plus years of experiece lie in elementary education, special education in an inclusive environment, and curriculum development. She and her husband Bryan live in Waxhaw, and parent four wonderfully different boys; two of them sporting extra 21st chromosomes. For more information about how to get involved in GiGi's Playhouse Charlotte, please contact Laurie at lmaddex@gigisplayhouse.org.
For support and to make more connections within the Charlotte area, consider joining this private Facebook group Special Friends Connection – Charlotte Area.