Activities for Children With Special Needs
A look at local venues that offer sensory-friendly fun for kids.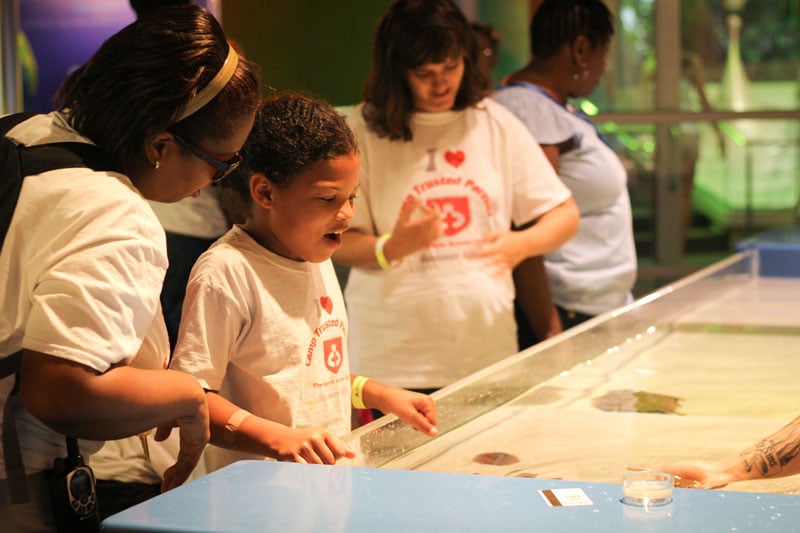 My son, Ben, loves to be out in the community, however, an outing requires planning ahead because he uses a wheelchair and is nonverbal. Throughout Ben's life, my husband and I have discovered many opportunities in Charlotte to indulge Ben in his need to see and be seen. Below are recommendations of sensory-friendly activities and venues for children.
Discover Nature
Mecklenburg County Parks and Recreation provides outdoor and recreational opportunities for people with special needs. There are more than 15 parks throughout the county with accessible walkways, adapted swings and sensory equipment with unique visual, tactile, and auditory stimulation. Specially trained staff members teach workshops on cooking, gardening, swimming and arts and crafts at Marion Diehl Recreation Center where you can also sign up for summer camp and year-round programs.
Marion Diehl Recreation Center, 2219 Tyvola Road, Charlotte. 980-314-1314 | parkandrec.com
---
Experience Immersion
The Yager Group Multi-Sensory Environment is located in the Easter Seals UCP Center. The room is designed to stimulate the senses and promote feelings of well-being and relaxation. The room has lighting effects, sensory activities, tactile experiences, sound effects and motion stimulation. Cost is $25 for a 30-60 minute session.
The Yager Group Multi-Sensory Environment, 716 Marsh Road, Charlotte. 704-522-9912
---
Read a Book
Charlotte Mecklenburg Library offers Sensory Storytime workshops at the Beatties Ford Regional branch, ImaginOn: The Joe and Joan Martin Center, and Matthews branch library. Staff leads stories, songs, and activities designed for children with autism spectrum disorders, sensory integration issues or other developmental disabilities. Find the calendar of storytimes at cmlibrary.org and select sensory programs in the calendar menu for more details.
Beatties Ford Regional, 2412 Beatties Ford Road, Charlotte | 704-416-3000
ImaginOn: The Joe and Joan Martin Center, 300 E. Seventh St., Charlotte | 704-416-4600
Matthews Library, 230 Matthews Station St., Matthews | 704-416-5000
---
Explore With Your Senses
Discovery Place museums are a great place for children to investigate their environment. Hands-on games, touch-and-feel activities and experiential learning opportunities are available at each museum. Discovery Place Science provides visual supports, including picture schedules, that are available at the front desk to help guests navigate visits to the museum.
Discovery Place Kids is setup like a mini-town, and kids pretend-play at the bank, grocery store, cafè, fire station and other businesses. Check each museum website for programming for children with special needs.
---
Enjoy a Performance
Let your child experience a production with the house lights at half, music lowered and the ability to move around the theater. Charlotte Ballet offer a sensory-friendly performance of the "Nutcracker" in December and the Children's Theatre of Charlotte has sensory-friendly showtimes for each of its regular season performances. Weighted lap toys, fidget toys and headphones are offered to guests.
Charlotte Ballet, 701 N. Tryon St., Charlotte. 704-372-0101 | charlotteballet.org
Children's Theatre of Charlotte. 300 E. Seventh St. Charlotte. 704-973-2828 | ctcharlotte.org
---
Watch a Movie
AMC offers Sensory Friendly Films. Movies are shown with the lights up and the volume lowered. Children are free to move around and talk during the movie. Movies are available on the second and fourth Saturday of every month. Check local theater listings for prices, movies and showtimes.
AMC Carolina Pavilion 22, 9541 South Boulevard, Charlotte. 704-643-1507
AMC Concord Mills 24, 8421 Concord Mills Blvd., Concord. 704-979‐0197
---
Jump, Bounce and Climb
Companies that specialize in high-energy activities offer special nights for children who need the environment tweaked a bit. They may turn off the music, dim the lights and dial down the distractions for kids with special needs. Victory Bounce at BounceU is free the second Tuesday of each month from 2-4 p.m. for families that have children with special needs. Sky High Sports offers discounted admission of $5.50 for children with special needs the first Tuesday of each month from 3-6 p.m.
BounceU Charlotte, 10624 Metromont Pkwy., Charlotte and 9129 Monroe Road, Suite 145, Matthews. 704-921-8771 | bounceu.com
Sky High Sports, 601 N. Polk St., Pineville. 704-889-5867 | clt.skyhighsports.com
Vanessa Infanzon is a freelance writer in Charlotte. Follow her on Facebook, Twitter and Instagram @morethanVMI.