Acknowledging the Value of Effort and Achievement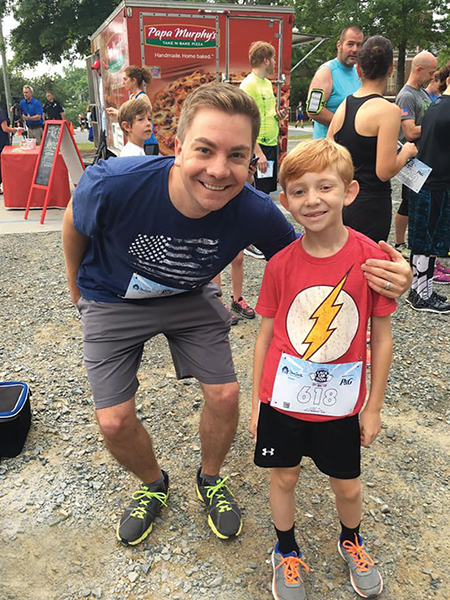 I recently went to Dick's Sporting Goods with my 8-year-old son Tyler and my 5-year-old son Chase. While waiting to check out, Chase went over to a sunglasses display and started trying them on and dancing in front of the mirror. He was totally hamming it up — a trait he clearly doesn't get from me.
A woman in line with her own kids behind me mentioned that Chase appeared to be quite a performer. I responded with a laugh and said, "He's my singer and actor." I then explained that Tyler (standing next to me) is my athlete. We finished our small talk about our kids and then walked out of the store.
Halfway between the exit and our car, Tyler looked at me with amazement in his eyes and exclaimed, "You called me an athlete!" He was over the moon. I told him that he absolutely was an athlete. I explained to him that he's a great soccer player because he's aggressive and never slows down. I reminded him that he has finished a number of races and even won a 5K. These are all things that my wife, others and I have told him before, but maybe we haven't told him enough.
Mark Twain once said, "I can live for two months on a good compliment." For young kids, it's probably more like two hours. While we all appreciate a good compliment, the ones that mean the most are the ones from the people we love and respect. For kids, that's Mom and Dad.
I assume that if you're reading this, you're a parent who regularly tells your kids that you love them and that they are handsome or beautiful. That's great, but do you tell them how proud you are of how hard they're working at learning to read or how diligent they're being at trying to find nonaggressive means to solving disagreements with their siblings? Do you compliment the quality of their work? Have you ever said something like, "Wow, this is the cleanest I have ever seen your room! Did you hire someone to come in and clean this?"
One thing I've learned is that you can never be too excited when complimenting a kid, so long as you are being genuine. As an adult, there is nothing that annoys me more than insincere praise. Kids can sniff that out like a bloodhound, and the last thing you want is for your kid not to be able to know when you really mean it and when you don't. I've also found that injecting humor into your compliments makes them more real and memorable.
The more specific or detailed your compliment, the more your children understand why their notable behavior and performance is important. It also shows that you are pay attention to them, which is a big deal in a world of cell phones and endless other distractions.
It's also important to think quality of praise over quantity. As I mentioned, Tyler has completed a couple of 5K races. When he doesn't win in his age group or beat his personal record in a race, I praise him for his resilience and his willingness to push to the end even though he knew he wasn't going to win or set a new record. It's important for him to learn that it's more about plugging away, working hard and persevering.
Look at you finishing this article. I'm so proud of you.
Derek James is a WCCB News Rising anchor, and lives in Charlotte with his wife and two boys, ages 5 and 8.