A Wheelchair Basketball Mystery
Local author and mom Annie Beth Donahue writes book for her 10-year-old daughter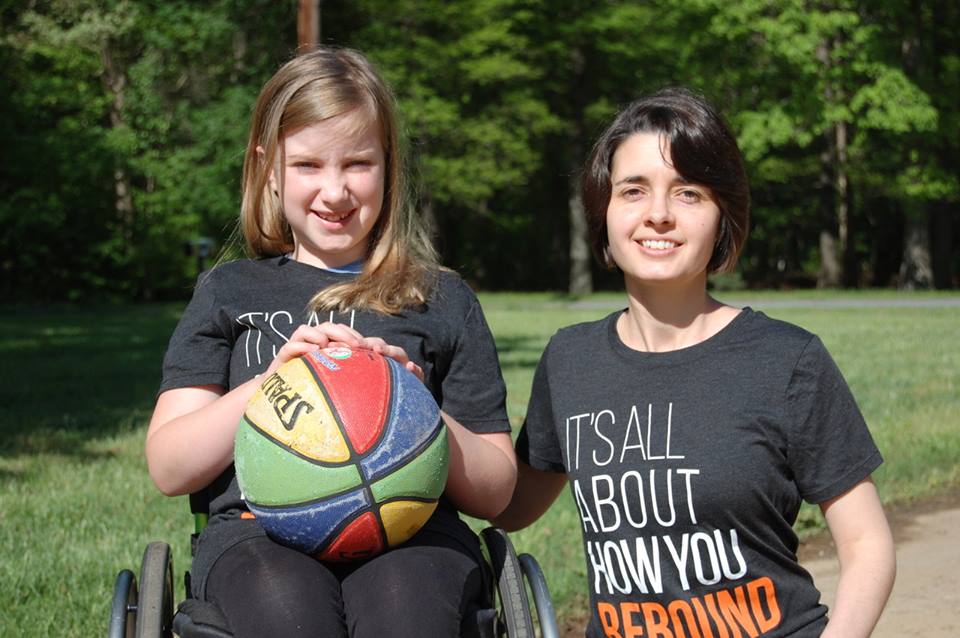 Last spring, Annie Beth Donahue, a former student of mine from Queens University of Charlotte published a book for kids called Anna Brown and the Missing Uniforms, the first in the series, A Wheelchair Basketball Mystery. Our family read it together and loved it. When I told my boys that I knew the author and that the kids in the book were real people, they wanted to meet the real Anna and Ben. We had that opportunity this summer at a wheelchair basketball tournament. We even asked for them to sign our book.
Annie Beth and her husband Brad have four children: Ben, 11, Anna, 10, Emily, 8, and Caleb, 7. The family lives in Indian trail, and they homeschool three of their four children. They are a typically busy family with sports, school, work and family obligations with some extras thrown in: celiac disease, autism, spina bifida and dyslexia.
Annie Beth is a wonderful resource because of her extraordinary experience raising children with special needs. She and Anna sat down with me at a local TCBY to discuss the book and other projects important to their family:
How did you come to write this book?
I wrote this story because Anna asked me to write a story for her birthday.
And also there weren't many regular books that happened to have characters with disabilities. I felt like a lot of the books were too overtly lesson teaching and were made for people without disabilities to learn something about people with disabilities. I wanted to write something with a character that kids with disabilities could relate to, that was more like them.
Why a mystery?
I have reluctant readers and a child who is dyslexic. I did research about what types of books children like to read. Mysteries are one of the first genres children will grab onto and get them reading. They want to keep turning the pages to see what happens next. I personally like mysteries because one of the first series I got into when I was younger was Enid Blyton and then Agatha Christie.
How do you see parents or educators using this book to teach children about important topics like adoption, celiac disease and physical disabilities?
Well, I think the good thing about the book is that it is not overtly preachy and teachy. If a child comes across a term they are not familiar with, they can ask and the parent can tell them. If you are reading this book and there are terms like crutches and celiac disease and autism, you can stop and talk about it without it being awkward.
What advice would you give parents who do not have a child with special needs?
Don't avoid inviting the child with disabilities to your play date or party because you are afraid they can't participate. We would just like to have the option of being invited in the first place. Most special needs families will do what they need to do and adapt what they need to adapt to facilitate their child's participation.
The key is for the inviting party to provide as much information about the event as possible. When I had a party for some friends, I sent out an email that said, "Please let me know if your child has any food allergies or if they have any behavioral triggers, such as dogs, loud noises, etc." I had three families respond with food allergies and one person respond with an aversion to dogs. We accommodated them all. Asking relevant questions in a respectful manner is encouraged. Also, when appropriate, also ask for the child's input.
What was the most difficult part about writing a book like this?
Besides properly organizing the story and chapters, one of the hardest things was to stay close to a 5th grade reading level. I had to edit, edit, edit, to pare down my sentences.
You sit on the board at Levine's Children's Hospital. How did you get involved with that? What are you most proud of the work you are doing with them?
Another family that has a child with spina bifida was rotating off the board and they personally came to me and asked if we would apply to take their place.
I am most proud of my work on the food committee. They did not have a lot of food in the cafeteria for people with food allergies or with autoimmune disease. It took me two years, but I finally got them to carry a brand called Modpaleo, and that is local to Charlotte. It is prepackaged meals free of most top seven allergens. They are in the cafeteria now.
You also are involved in Signpost Ministries. What is it?
My husband and I founded Signpost Ministries five years ago to fill in the gaps that aren't being met by other community organizations. Signpost ministries serves families that have children with chronic health problems or disabilities. If someone comes to us and another organization can solve the problem, we link them to that organization. We meet physical, emotional, education, social and spiritual needs of the individual. Whatever the person comes to us with, we try to help them.
How do you find time for yourself and when you do, what do you do?
Reading is every day, anytime I can snatch a few minutes. I do Bible study daily- the kind that researches history, culture, original languages, etc. I also take Aikido twice a week. This is important because it is something I do by myself, outside of the house. Aikido is a defensive martial art that focuses on balance and re-directing the other person's energy rather than relying on attacking or using force. The principal is applicable in other areas of life. Just think about battling the insurance companies… balance…re-direct…stay calm…use that person's words and take it to their supervisor….
What are your upcoming projects?
I started writing the second book for the series. It will be set in Atlanta – I should mention that each book in the series will be set at one of our away game locations.
---
Attention Required
Visit Charlotte Gymnastics Academy on Saturday, September 19 from 3:30-5:30 p.m. to learn about the NEW Special Olympics Mecklenburg County Gymnastics Program! Tour the facility, meet the staff, and receive information about participating or volunteering. For more information contact Rory Riley, SOMC Gymnastics Coach, rory.riley@gmail.com, Greg Morrill, SOMC Director, gmorrill@sonc.net, 704-358-1935, ext.162, or Charlotte Gymnastics Academy.
See more resources for families with children with special needs in the Special Needs Directory.