A Visit to Homeland Creamery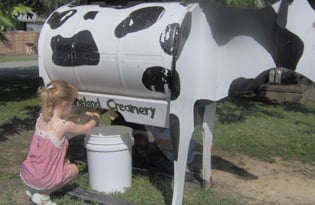 A recent trip to Homeland Creamery provided my 3-year-old daughter, Lily, and this city girl a better understanding of how milk gets from the cow to the grocery store. We accompanied Lily's playgroup to Homeland Creamery for a dairy farm tour.
Located in Julian in southeast Guilford County, Homeland Creamery is a sixth-generation family-owned-and-operated dairy farm. On arrival, our group checked in at the store, which is open daily to the public. Two Border collies, Belle and Jip, as well as a few barn cats greeted us. The sight of the animals, including several roosters, turkeys and a calf, immediately excited the children in the group, all under age 5.
We began the one-hour tour with a hayride through the dairy farm. Along the way, we saw some of the more than 300 Holstein cows, as well as one lazy llama. Our tour guide, Diana, told us all about the farm and how it works. She explained that the cows are females and that they produce milk after giving birth to a calf. I learned the difference between a cow's udder and a teat.
The most noteworthy facts are that Homeland Creamery's cows are pasture-fed and only eat corn, hay and mixed feed grown right on the farm land. No artificial hormones or antibiotics are used. The cows are healthy, and the milk is all natural and fresh.
After the 20-minute hayride, we came back to the dairy, and the kids all had a chance to feed a 3-week-old calf. Each child took a turn holding the bottle for the calf to drink. Each child also had the opportunity to hand-milk a simulated cow.
Next we went into the milk parlor for a look at the automatic and computerized milking machines. Milk at the dairy is pasteurized the old-fashioned way, using vats for a creamier, richer taste. It's processed and bottled right on the premises, keeping complete control of its quality at the farm.
At the end of the tour, we each received a small cup of Homeland Creamery's vanilla ice cream. This was by far Lily's favorite part of the day, and some of the richest, creamiest ice cream I've ever tasted. Homeland Creamery sells milk products including whole, low-fat, skim and chocolate milk; buttermilk; ice cream; half-and-half; heavy cream; and homemade butter eggnog during the holiday season. In addition to milk products, the farm also offers Ward's Sausage, hamburger, free-range eggs, corn meal and Tennessee cheeses. All of these products can be bought in the store or found at several retail stores across the state. A complete list of retailers is available online at www.homelandcreamery.com.
Cristi Driver is assistant editor at Piedmont Parent Magazine. She lives in Greensboro with her husband, Michael, and their daughter, Lily.
If You Go
Homeland Creamery
6506 Bowman Dairy Road, Julian
336-685-MILK (6455)
www.homelandcreamery.com
Admission: Tours are $6 per person for ages 2 and up.
Hours: Tours held Monday-Friday at 10 a.m. March through mid-November, by reservation only.
Store is open Monday-Saturday 9 a.m.-6 p.m. and Sunday 1-6 p.m. Extended summer hours are until 9 p.m. on Friday-Sunday.