A Parent Primer for Kindergarten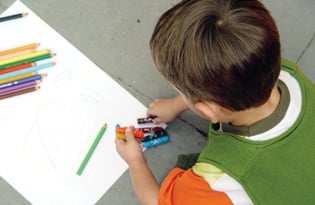 Getting ready for kindergarten is not just about how well your child is prepared. Parents, too, have to do their homework. Navigating the waters of public schools can be quite an education for first-time kindergarten parents. There's so much information to siphon through, and finding it isn't always easy. Here's the scoop on all that parents ever really needed to know about kindergarten.
Registration Requirements
To register for kindergarten in North Carolina, a child must be at least 5 years old on or before Aug. 31. In South Carolina, the cutoff date for kindergarten entry is Sept. 1.
The timing for kindergarten registration varies by school district. Charlotte-Mecklenburg Schools begins kindergarten registration for the next academic school year in October, and it runs through the summer. Other school systems have more targeted dates for registration kickoff. Cabarrus County Schools, for example, conducts a special registration week in April.
For parents eyeing magnet schools, they must keep in mind that magnet programs have earlier registrations deadlines. To be eligible for the first magnet lottery, CMS students must be enrolled in December.
To enroll in kindergarten in North Carolina public schools, parents or a legal guardian must complete a new student enrollment form and present a valid photo ID, a certified birth certificate and proof of residency (valid driver's license, property tax bill, utility bill, deed or most recent mortgage payment, etc). Some school districts require more than one proof of residence. CMS requires three documents to verify residence, and they are outlined on its website. Current immunization records and a health assessment by a physician in the past 12 months are required at registration or by the first day of school.
South Carolina enrollment requirements include a certified birth certificate, a certificate of immunizations and proof of residence, but check each school district has specific requirements regarding types of documentation. Parents or a legal guardian must also present a valid photo identification at registration.
First Encounters
In the spring, CMS elementary schools hold Beginners Day for rising kindergarteners and their parents. Children visit a kindergarten classroom and do activities while parents attend an information session about the school. Parents with children who are especially shy or nervous about kindergarten may find it helpful to prepare their child for what happens at Beginners Day. Dates for Beginners Day vary by school. Some are held during the day while others are at night. Other area school systems hold sessions similar to CMS Beginners Day during spring registration.
CMS elementary schools also conduct campus tours for parents in the second semester of the school year. Some tours begin as early as January. While CMS does not conduct any pre-kindergarten assessments, some school districts do. Mooresville Graded School District conducts screenings in early May.
Transportation
Transportation requests are handled a variety ways depending on your school system.  For example, Mooresville Graded School District and Cabarrus County Schools include transportation forms in packets handed out when parents register a child for school. CMS requires each rising kindergartener to have an identification number – which is mailed to parents in the summer – before a child can be registered for bus transportation.
CMS bus schedule information is not distributed to schools until August, and parents will not know further details about bus schedules until the school sends opening-of-school information approximately a week before school starts. Documents and procedures for car riders and walkers are often specific to each school.
Buying Meal Plans
Many area public school systems now allow parents to set up online accounts to pay for meals. Instead of a ticket, the child is given a personal identification number to enter for cafeteria purchases. CMS uses paypams.com to process school lunch payments online or by phone. Parents can schedule automatic payments or receive email notifications when the balance is low. Some schools with online payments, such as CMS and Rock Hill Schools, give parents the ability to go online and track their children's food and drink purchases. Parents can still pay cash or check for school meals, too. To apply for free or reduced lunch, parents must fill out a form from their child's school. Many school systems include the form in registration packets or on the school district's website.
August Overload
In August, parents can expect a plethora of information from their child's school. Most critical information is included in information packets mailed to the home or distributed at open houses. Rock Hill Schools even has a hotline telephone system in place before school begins to answer parents' questions.
Parents also may want to visit their child's school website for updates on open houses, which are usually held a few days before school starts. Many schools post supply lists, if not already provided at registration.
Most area public schools do not notify parents of their child's classroom teacher until a week or two before the school year begins. Depending on the school, parents may also get an introductory call from their child's kindergarten teacher. Several public school systems, including CMS, have staggered entry days for kindergarten. This means only a handful of kindergarten students come to school each day for the first few days of school. Keep in mind that if you are going to take your child to school on the first day that you may not know the exact date until just before school is in session.
Want to Know More?
For more information, visit the websites for these area public schools.
Charlotte Mecklenburg Schools – www.cms.k12.nc.us
Cabarrus County Schools – www.ccsweb.cabarrus.k12.nc.us
Mooresville Graded School District – www.mgsd.k12.nc.us
Rock Hill Schools – www.rock-hill.k12.sc.us
Fort Mill Schools – www.fort-mill.k12.sc.us
Union County Schools – www.ucps.k12.nc.us
Lincoln County Schools – www.lincoln.k12.nc.us