A Modern Mom's Guide to Birthday Parties
The latest in party planning tips and trends.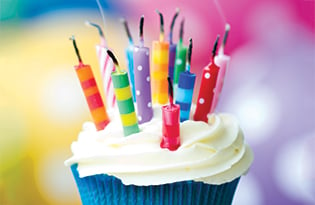 There is a shift making waves in the parenting world — a simpler approach to hosting children's birthday parties. A change in thought about going the homemade route verses a store bought one. There are pros and cons to both choices. You just have to choose what is best for your family's perspective and budget.
Paper or Digital Invitations
Paper invitations are classic and memorable, while Evites are all the rage in our technology-fueled world. Paper invitations add class and a personal touch to an upcoming event. They make an excellent scrapbook and keepsake item, but are not the lower-cost method. Evites and other digital invitations are continually gaining in popularity for birthday parties. Most are free to send by simply signing up — all you need is recipients' email addresses.
"Digital invitations are handy and great to use when planning your child's birthday party, a neighborhood pot-luck, or a girls night out. They make it easy for a person to RSVP, and you can send reminders and party instructions," says Aimee Symington, etiquette expert and owner of Finesse Worldwide Inc. "It is not OK to send a digital invitation for any event or function that is of great significance such as a wedding or college graduation party."
Another advantage of a digital invitation, is the ability to view who has received the Evite and keep a running tally of accepted RSVPs and declined invitations. Evites can be limiting, however, when it comes to design and content.
When it comes to thank you cards: "I will first say that any type of a 'thank you' is better than none," says Symington. "While many etiquette rules have changed over the years, this rule is still fairly clear – it is always best to send a handwritten thank you note for a gift you have received in person or by mail. It is acceptable to email a thank you note when it's important that you show your gratitude immediately or want the person to know the gift has arrived. So few people send hand-written thank you notes anymore that when you do, you will stand out from the crowd and really show what great manners you have."
Traditional Cakes, Cake Pops or Doughnut Cakes
Serving a traditional cake is a statement piece, especially when made to convey the birthday theme, but it can also be very expensive. Some parents spend less on the decorations and put more money into a large cake, which becomes the centerpiece of the party.
These days, parents have become more mindful of serving reasonable-sized sugary treats; that's where cake pops come in. Cake pops are small-portioned treats on a stick, which makes them a big hit with the kids. Also, doughnut cakes are a new twist on the cake scene. A couple of dozen doughnuts arranged in a fun way makes for an easy cake, saving on time and money.
If you birthday child is old enough to understand, let him or her know the cake options and build the party around their choice.
To Open Gifts or Not
Some parents feel it would be more polite to open gifts. Others think it puts more emphasis on the gifts rather than the focus on the party. The advantage of opening presents is that it teaches children to be gracious, but opening them at home takes the pressure off children who are unable to express proper gratitude or hide disappointment.
Home Party or Party Venue
Hosting your child's birthday party in your home, you have complete control. There are no guest count limits, time or date restrictions. Hosting in your home is generally less expensive, but involves more work for you. Food, decorations, activities and entertainment will fall on your to-do-list. Don't forget about the tons of cleaning, before and after the party. Choosing a party venue usually takes only a telephone call or two to take care of most of the work, but can come with a hefty price tag.
"I am a huge fan of holding birthday parties at a venue verses my home. One of the biggest factors for me is I feel it allows me to really experience the party with my kids and be in the moment with them verses worrying about all the details," says Amy Hornor, mom of two children. "Having a party coordinator with you takes the pressure off you trying to be Mom and a party hostess."
Like everything, it comes down to time, money, and your family's preference.
Children's birthday party trends reflect a shift to more parenting choices. A new movement to simpler traditions has been gaining ground. Other parents might thank you for taking a different yet simpler approach.
Sara Kendall is a freelance writer, and mom of two daughters, who lives in Charlotte.