A Little Family Teamwork
A trip to 'The Nintendo Switch Family Showdown'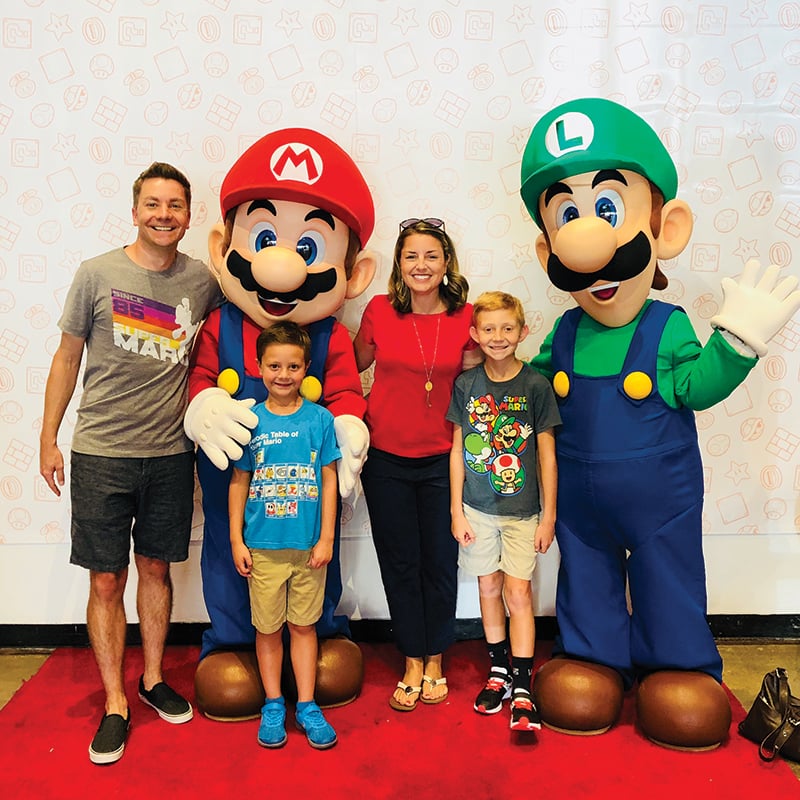 In July, my sons Tyler and Chase came bouncing down the stairs screaming, "Dad, you've got to see this!"
It was a Disney Channel commercial looking for Nintendo-loving families to compete in something called, "The Nintendo Switch Family Showdown," a game-show style video-game competition. The boys convinced my wife and I to create and send in a 60-second audition video. Working in TV, I had a pretty good idea of what they were looking for, so we gave it a shot. As it turned out, that video of us on our stairs — shot on my iPhone while it balanced precariously on our ironing board — got us a ticket to Hollywood.
In August, Disney and Nintendo brought the four of us to Los Angeles for a three-day, two-night stay culminating in a family video-game competition in front of TV cameras and a live audience. Before the trip, we were given an idea of which games we'd be playing and were sent copies of the games to practice — and boy did my sons practice. They even "practiced" on games we wouldn't be playing in the TV showdown.
Each team was given an honorary captain from a Disney Channel show. We were lucky enough to be teamed up with teen star Isaak Presley from the sitcom "Stuck in the Middle." Isaak was part mentor, part motivational coach and part big brother. He taught us our team cheer — pounding our chests and yelling like Donkey Kong — which made for some good, but embarrassing television.
Isaak's motivation came in handy as we didn't get off to a great start. The first game was a seeding round of "Just Dance." While we came in second, only the first-place team received points. The next challenge was "1-2-Switch." This was a single-elimination tournament. In the first challenge, a player from each team had to hold the controller like a cow udder and "milk" as many cups from the virtual cow as possible. Even though I'm from Wisconsin, I'm horrible at this game. We sent one of the kids up. He gave it a valiant effort, but lost. That guaranteed us last place points. In the final challenge of the first half, "Super Mario Odyssey," the four of us finished in second place.
At half-time, we were in last place. During the intermission, we went back to the green room with our coach Isaak. He gave the best pep talk I've ever heard a 16-year-old give. He made us all feel like we were still in the game, reminding the boys of how important it was to be good sports whether winning or losing, and how we were going to have a lot of fun playing the second half of games. We were psyched.
Following that speech, we came out of half-time on fire and won the next challenge, a family relay of "Donkey Kong Country: Tropical Freeze." We were leveling up! The next game was a single elimination "Mario Tennis Aces" tourney. Tyler and I won our first match, then my wife Kristen and youngest son Chase won the overall winner match in what seemed liked the longest tennis game ever, complete with multiple ties and match points.
We were now at the point in the game where the two families with the lowest point totals would be eliminated. The last two standing would then play "Mario Kart 8 Deluxe" in a winner-take-all race. In a comeback to end all comebacks, we made it to the finals.
But were we first to the finish line? Find out by watching "The Nintendo Switch Family Showdown" on nintendoswitchtogether.com.
Derek James is a host of WCCB News Rising. He and his wife live in Charlotte with their two sons who are age 9 and 7.