A Life Story Rewritten: Sha'Quay Moss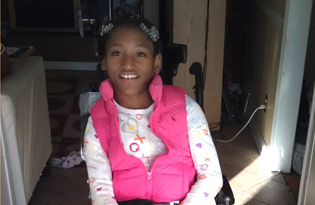 When Sha'Quay was born, she went eight minutes without oxygen to her brain and 28 minutes without a heartbeat. She had a crushed right hip, stretched nerves in her right shoulder, and an inability to suck because of cerebral palsy, a lifelong disorder that affects a person's muscles. Doctors said she likely wouldn't live for more than a few minutes, and if she did, she would be a complete vegetable.
Sha'Quay proved the doctors wrong, and so we created a new story.
No doubt, having a child with a disability is stressful, isolating, emotional and financially draining. Sha'Quay has had six surgeries, including two for her hip, one to help straighten her feet, and one for a baclofen pump implant to relax her spastic muscles. When going out, we can't just find any babysitter; it has to be one who is trained for Sha'Quay's needs, including feeding, changing and dressing.
Having a child with a disability can also strain a marriage. Clarance and I recognized that we had stopped cherishing one another, and so we enlisted our parents' support. Because many families do not have that kind of support, we established HOPE, a nonprofit organization that provides opportunities for parents like us to have date nights and intimate getaways to help reduce stress, strengthen relationships and reconnect to the community.
Through love, we celebrate the small milestones with Sha'Quay while maintaining high expectations in line with her siblings, MiKayla, Zarya, and Kyra, and her cousins. They are all very involved with her care, just as she is involved with their activities. For example, when Zarya was 3, she could get Sha'Quay to stop crying by laying her on a pillow in a basket and pushing her around the house.
Sha'Quay never gives up and embraces new opportunities. She lives with such grace and beauty confirming that only God has the final say about someone's time on earth. For Sha'Quay, and our family, love is the answer!
Zondra Moss is a Charlotte mother to MiKayla, 16, Zarya, 14 and Kyra, 7. Charlotte.