A Healthy Summer Includes Camp!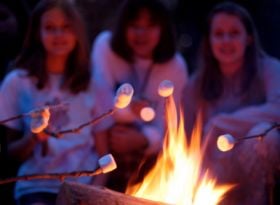 In 2006, 33.3 percent of children in North Carolina (ages 2-20) were overweight or at-risk of becoming overweight. Sue Dissinger, director of wellness for the YMCA of Greater Charlotte calls it an epidemic of inactivity and unhealthy eating.
"Kids aren't moving like they used to," Dissinger says. "From TV to video games to computers, activity is slowly disappearing from many children's days. It's not about getting children to the gym to run or lift weights. We just need to get them playing again."
According to current guidelines by the National Association of Sport and Physical Education, 5- to 12-year-olds need at least 60 minutes of physical activity all or most days of the week. With no school, summer brings days of free, unstructured time. For many kids, that could mean even more time to watch TV, play video games or surf the Web.
"Even children who spend time playing outside might not ever get their heart rates up long enough that it would constitute legitimate exercise," Dissinger warns.
A great way to ensure your child is staying active is summer camp. The YMCA of Greater Charlotte, the largest and longest provider of day camp in the area, strongly recommends day camp as a way to make sure your child is getting enough summer exercise.
Whether your child loves sports, dance, cheerleading or just wants to be outdoors, there are a variety of great summer camp options in the greater Charlotte area offering children many enjoyable ways to be active.
"At camp, physical activity is part of the schedule," says Liz DeFrietas, senior program director of Afterschool and Camp at the Siskey YMCA, "so parents can be certain it is happening."
What Parents Should Ask
DeFrietas has some advice for parents shopping for a healthy, active summer camp.
Ask the camp director how much time is spent doing physical activities each day. They should report at least 60 minutes — minimum!
Also, find out what your child's camp schedule looks like on hot days. With soaring summer temperatures, bringing kids inside often becomes necessary to avoid sunburn and heat-related problems. What then happens to the physical activity?
"Going inside does not have to equal watching a movie or playing video games," DeFreitas says. Camp counselors should rotate outdoor activity with indoor activity. "Avoid the heat, but take the same group games you would play on a field and play them on an indoor court instead." Camps can also break up the time in the heat by eating lunch indoors and planning swimming activities when a pool is available.
DeFrietas' final piece of advice: Find out if your camp trains its staff to model healthy habits. When it comes to nutrition, role modeling has a powerful effect on children. At camp, counselors are in a position where the kids look to them as role models. Rules at some camps include not drinking sodas in sight of campers and not having fast food for lunch.
Healthy behavior goes beyond nutrition. The right counselors can help your child have a healthy self-image.
"The beauty of the camp experience is that you have these wonderful adult role models who are there to engage with the kids," says John Austin, YMCA executive director of Family Services.
By having these role models and making relationships with new friends from diverse backgrounds, kids gain the communication and social skills that lead to a healthy, emotional life. "Kids sign up for a camp to learn to ski or golf or whatever, but they come back talking about the people," says Austin.
Denise Flanders is the public relations coordinator for the YMCA of Greater Charlotte.