A Happily-Ever-Afternoon at ImaginOn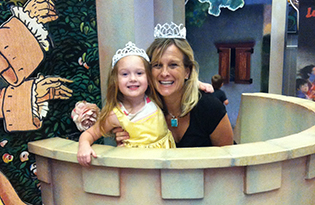 Getting kids excited about going to the library this summer is easy with the interactive exhibit Once Upon a Time … Exploring the World of Fairy Tales at ImaginOn. The exhibit explores seven favorite multicultural fairy tales and folk tales, bringing them to life with engaging activities especially targeted for ages 2-10.
In this magical storybook playground, children can climb up the beanstalk and slide down into the lair of the giant, just like young Jack in "Jack and the Beanstalk," or explore the jungle from "Ansasi and the Talking Melon," sitting on the throne of the Monkey King. Little girls will want to don a yellow princess dress with a tiara, and be transported into the story of "Beauty and the Beast," to play the harpsichord, stand on the palace balcony waving to subjects below, or sit down at the beast's banquet table to dine.
SEE ALSO: Dan Nicholas Park: A Little Bit Amusement, A Little Bit Park
You'll see little girls and boys pretending to be cobblers, assembling shoes at "The Elves and the Shoemaker" section, or crawling through the eight-foot mole tunnel to emerge in the story of "Thumbelina." In each area, giant pages of the tales offer a chance for parents to read to their kids as they interact with the props and costumes. Older children can even create their own fairy tale at a computer kiosk by selecting scenes and illustrations to write a custom happily-ever-after tale, and print it to take home.
One of the favorite activities on my recent visit with my nieces, ages 4 and 2, was Cinderella's carriage, complete with Cinderella and Prince Charming costumes, and a glass slipper to try on. Seated in the carriage, they joined other children and watched as the imaginary scenery rolled by. Judging by the smiles on their little faces, this world of fairy tales is a big hit.
The Once Upon a Time exhibit is free and runs through Sept. 7. It is open during ImaginOn Library's summer hours, and parent supervision is required for children under 8. Admittance is limited to the exhibit, so you may have to wait in line. However, on our weekday visit there was no wait, and we spent an hour exploring all the activities. Bilingual signage opens the experience to Spanish-speaking families as well.
Eve White is the publisher and executive editor of Charlotte Parent.