A Goal of Independence: Ben McCall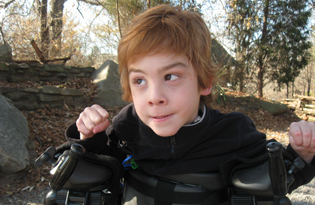 One cold January night eight years ago, my husband and I sat down to dinner with our 6-month-old boy, Ben. I cannot recall what we ate, but I certainly remember our conversation: Ryan asked me if I thought Ben was special. Without a moment's hesitation, I answered yes.
That was the beginning of our emotional roller coaster ride. We were right, our son is special, but eight years have passed without a definite diagnosis. His development is delayed. He uses a walker to get around and a wheelchair for longer distances, and he developed epilepsy at age 6. Though Ben does not talk, he seems to understand us and makes his needs and wants known clearly to people who know him.
He is a beautiful redhead, full of determination and spunk. He's stubborn, manipulative and charismatic, and he has a knack for bringing wonderful people into our lives as sounding boards and for support – friends who will stand beside us when needed.
Soon after learning Ben had special needs, I spent three days in bed, depressed and feeling alone. Our lives had been turned upside down, but I realized that if we were to survive this, I had to be Ben's mom. I have had other sad days, but my goal to love Ben and advocate for him – to make sure he gets the best education, services and life – has kept me focused on what is most important.
We have two other boys, Logan and Sean, to keep me in check with our goals for Ben. One day, Logan asked why Ben was not feeding himself at lunch. I was caught! Ben could feed himself, but it is so much easier and faster for me to do it. Learning to help Ben become independent has been a struggle, but I think it is the best gift I can give him.
Vanessa Infanzon is a Charlotte mom to Ben, 8, Logan, 6 and Sean, 3 and writes about adventures with Ben at eSpeciallyBen.com.