A Four Year Old's Thoughts on Fatherhood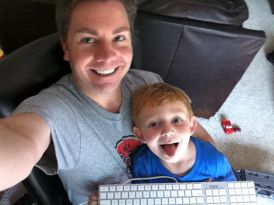 I was having lunch with my good friend Eric last week who happens to be a great writer. We got to talking about this blog and he suggested having my four-and-a-half year-old Tyler help me write one of these weekly pieces. Eric also suggested to have Tyler sit down at the computer with me when he's "in a good mood and full of chicken nuggets." We pulled up to the computer on Monday (sans nuggets) and this is what happened.
Me: What do you tell people daddy does?
Tyler: You talk about stuff on TV then ask your girl friend what the weather is going to be.
 
Me: How do you be a good daddy?
Tyler: By listening. Doing my homework. Doing your job.
 
Me: What are you going to do when you're a daddy?
Tyler: I'm going to pay money for an iPod because I want to do Fruit Ninja HD and play the Stars Wars Angry Birds video game.
I'm going to go to McDonald's all the time.
I'm going to cook food in the oven. I'm gonna cook pizza.
Me: What else will you do when you're a daddy?
I'll stay up at night and watch whatever daddies watch like sports shows.
I'm going to download stuff on my phone because that's what you and mommy do.
I'm going to sell toys I don't need anymore because daddies don't play toys they play games.
Me: Is that it?
I'm going to marry some kind of girl. I don't know who it is yet.
I'm going to plug and unplug stuff and mow the lawn.
 
Me: Who are some good dads?
Tyler: You, Pop Pop, Grandpa Wisconsin and Ryan's dad are good guys. I'm done. I love you. The End.
Insights from a 4-year-old. I don't think I can beat that. "Daddy Derek" may soon be replaced by "Little Man Tyler."
WCCB News Rising Host Derek James balances a full-time job in the glamorous world of television news (including a 2:30am wake up and stale coffee) along with managing chaos every afternoon for 4 year-old Tyler and 2 year-old Chase.
See more from Derek: @DerekJamesTV on Facebook and Twitter.