A Different Kind of Perfect: The Journey of Three Local Kids with Special Needs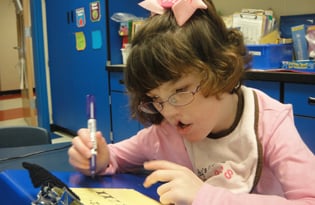 They smile, give hugs and attempt to do great things – typical children in many ways. Yet, they were born with special needs, including mental, physical and nutritional, and so they also face tremendous challenges.
Yet, these three local kids are growing, adapting and overcoming their various struggles, and their moms share with us the heartwarming story of their journey.
With Determination and Spirit
Makenzie Dougherty spent the first 73 days of her life in the neonatal intensive care unit before coming home to her parents, Kathryn and J.P. Dougherty. Born with a cleft lip and palate, she was diagnosed after six weeks of tests with CHARGE Syndrome, a rare pattern of birth defects affecting multiple organs in the body.
Makenzie, 11, has had 20 major surgeries. She is deaf, visually impaired and developmentally delayed. She uses signs to communicate, and the family is learning sign language, including Makenzie's younger siblings, ages 7, 6 and 2.
At 5 months old, Makenzie began therapy sessions through early intervention services in Ohio, where she was born. The family moved to Charlotte, believing the climate change would ease their daughter's respiratory issues.
Today, Makenzie is a fourth-grader at Antioch Elementary School. A personal aid and sign language interpreter assists Makenzie in a classroom for exceptional children. When she's not in school, Makenzie enjoys drawing, swimming, taking pictures and watching videos on her iPod.
Going out as a family is not an easy task. "We have to really think about where we are going and what we are doing, because Makenzie can get overwhelmed in certain settings," says Kathryn.
When the family vacationed at Disney World, they went during the off season and obtained special needs passes to avoid long lines. When the Doughertys travel, they rent a condo or house because they know Makenzie functions better when she has her own space.
Through the CHARGE Syndrome Foundation, the Doughertys have found support and connected with other families affected by CHARGE. Every other year, they attend the foundation's conferences as a family and take part in fun family activities.
Kathryn says her daughter is an inspiration. " To watch her achieve every little milestone and overcome the challenges she faces is so amazing, and she's happy to do this," says her mom. "Makenzie's very determined and spirited."
Balls, Books … and Boyish Pranks
When Cammie Howard was told her newborn son, Zach, had Down syndrome, she grieved for the dreams she'd had for him. She soon realized, however, Zach's life didn't have to be limited.
"I did not know of the opportunities available for children with special needs, nor did I know all that children with Down syndrome are capable of (doing)," says Cammie, who lives in Huntersville. "The sky is the limit."
The biggest hurdle for the family was adjusting to a new normal. "It was tough, at first, to navigate through all the therapies (speech, occupational and physical) and not allow having a child with special needs to completely take over our lives," says Cammie, who also has a 5-year-old daughter.
Many parents of special needs children, she says, never feel like they are doing enough for their child, and dealing with that tension can be difficult. She says watching Zach reach milestones, such as walking, are sweeter because he must work harder to achieve them.
"These were definitely milestone I took for granted with my first child," she says. Outside of his weekly therapies, Zach is a typical 2-year-old boy. He loves balls, books and unwinding the toilet paper roll when Mom is not looking.
Cammie and her husband, Phillip, credit their faith and the support and prayers of friends in helping them get acclimated to Zach's diagnosis. Cammie joined the Down Syndrome Association of Charlotte, which hosts monthly gatherings for moms, play groups and activities. Online blogs and websites also have been helpful resources.
Cammie believes her son will live a very full life. She now looks back on the day she learned Zach had Down syndrome and wonders why she had been sad.
"I know deep in my heart that what I had first said about Zach was true," says Cammie. "He's perfect … just maybe a different perfect than I had first envisioned."
A Milk-Free Smile
Vance Goggin was diagnosed with food allergies when he was 9 months old. The initial news that Vance, now 17 months has milk, soy, egg and peanut allergies was overwhelming to his parents, Leslie and Byron Goggin of Morresville.
"I thought, 'My child is allergic to everything! How am I going to take care of him?'" says Leslie.
Keeping a food journal – a list of everything Vance ate each meal and how he reacted – helped Leslie initially begin to manage and assess what foods her son could, and couldn't, eat.
Now, meal planning and dining out have an extra element of complexity. "The quick-and-easy things are out the window. I have to plan a day ahead for meals," says Leslie. "If we go out to eat, I have to bring his meal."
She also anticipates challenges when Vance begins wanting to taste foods he sees his parents and sister, Ella, 2, are eating … and he cannot have. Milk, soy, eggs and peanuts are contained in so many foods that it is impossible for the rest of the family to cut them out of their diet completely.
Leslie says www.foodallergy.org has been a lifesaver for meal ideas. "The best part is it has recipes, and you can click on the allergies you have, and it will bring up (allergy-free) recipes," she explains. For Vance's first birthday, she found a chocolate cake free of milk and eggs.
Living with life-threatening allergies means Vance must have an EpiPen with him wherever he goes. Last December, Leslie had to administer the shot when her son had an immediate allergic reaction to fish.
Leslie says the changes her family has made are worth it because Vance doesn't cry all the time now, and he's sleeping better. "Since we've taken away milk, his No. 1 issue, Vance is happier and smiles more," says his mom. "He doesn't have to be miserable anymore."
Holly Becker of Davidson is a mother of three young children and a freelance writer.