A Date Night Movie Review: 'Game Night'
The film is compelling comedy with a dynamite cast, innovative plot and sharp delivery.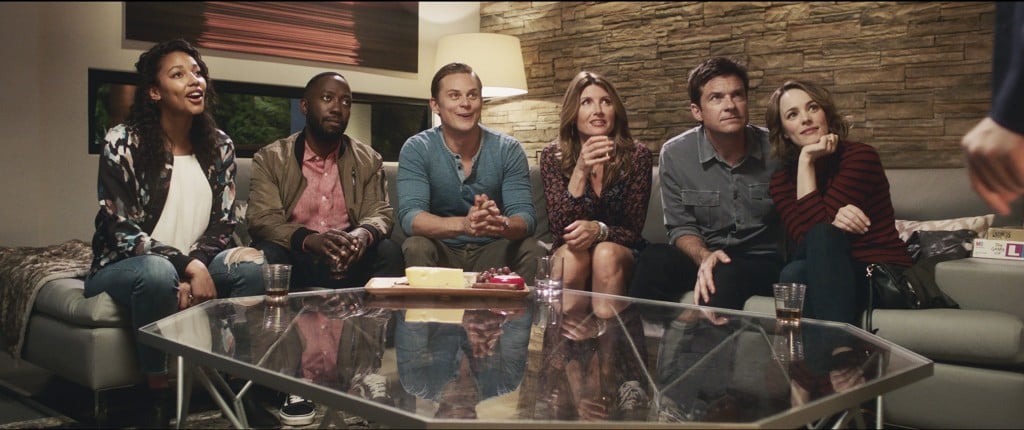 If you're looking for a good date night movie, you'd probably enjoy "Game Night," an action-comedy about a group of friends playing a murder mystery game that goes awry.
The story begins when Max (Jason Bateman) meets Annie (Rachel McAdams) during trivia night at a bar. They are a good match because of their mutual obsession for game playing. They fall in love and get married. Max and Annie settle into their new home, and host a game night for their closest friends. Their friends include Ryan (Billy Magnussen) and his British date, Sarah, (Sharon Horgan,) and longtime sweethearts, Kevin (Lamorne Morris) and his wife, Michelle (Kylie Bunbury) who have been together since middle school.
Max and Annie used to invite Gary (Jesse Plemons,) their creepy cop neighbor to their game nights. For some reason, their relationship soured after Gary's wife left him. Now Gary desperately stalks Max and Annie, in hopes of being re-invited back to their game night.
On Friday evening, Max and Annie invite their friends over for game night. Unannounced, Max's older brother, Brooks (Kyle Chandler) shows up in his red Corvette Stingray. Brooks shares an embarrassing childhood story during charades. Max and Annie can't stand Brooks and make a pact to defeat him at the next game night.
The following week, the friends meet for game night at Brooks' house. Brooks initiates an interactive role-playing mystery game, promising that whoever wins the game will get the keys to his flashy car. The doorbell rings and an actor playing an FBI agent (Jeffrey Wright) shows up and explains how the mystery game works. Unexpectedly, two masked men break in and assault the FBI agent and Brooks. After Brooks is dragged out of the house, the couples begin to solve the mystery using the clues left behind. While Kevin and Michelle play the game fairly, Max and Annie track Brooks down using his phone's GPS location while Ryan and Sarah track down the company in charge of managing the game. As the game continues, the friends find themselves entangled in an actual life-or-death mystery that's intense, dangerous and scary.
What Parents Should Know
As a parent with two teens, I'd say that this is a reasonable film for ages 16 and up. Most teenagers play action-oriented video games and watch mystery-detective shows on TV. "Game Night" is along those lines, but it's more comedy and adventure than blood and gore. Be forewarned, however, that the movie is rated R for language, sexual references and some violence.
"Game Night" is a suspenseful and compelling story, with a moderate amount of violence. There are some shadowy, underworld characters who use guns and knives. Some people are wounded (and even killed.) There is a secret boxing match at a gated mansion, where rich people pay poor people to fight each other. Wealthy people are seen betting thousands of dollars on crude fist fights. One person is hit by a car, someone gets knifed, others are shot, and one man is sucked into a jet engine and puréed. All of this is played for laughs, rather than being gruesome. There is moderate cursing and foul language. In terms of sexual content, there is no nudity or bedroom scenes. However, there are some lewd jokes and references to masturbation.
Is it worthwhile?
"Game Night" is a compelling comedy with a dynamite cast, innovative plot and sharp delivery. It's fun to watch, piece together the clues, and figure out what's going to happen next. My favorite character turns out to be Gary the policeman, who generates a lot of laughs and suspense by doing as little as possible. Initially, he's extremely introverted, speaks in a monotonous voice and appears to be most boring person around. But Gary will surprise you in the end, with a clever twist that you didn't see coming. Without giving too much away, Gary will have you smiling when the end credits roll on the screen.
Writer Nicky VanValkenburgh invites your comments and feedback at nickyv@bellsouth.net.