A Common Core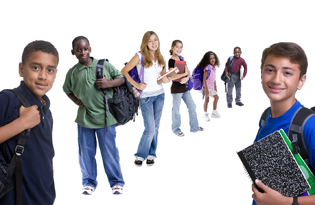 North Carolina public school students and their parents have heard it before: "A curriculum change is coming." This time, however, the change aligns with one that 44 other U.S. states, the District of Columbia, Guam and the U.S. Virgin Islands are also making: implementation of the internationally benchmarked Common Core State Standards.
Adopting a new, national K-12 math and English language arts curriculum may unnerve students, parents and teachers, but state and local education administrators say it's crucial.
"We live in a mobile society now," says Maria Pitre-Martin, director of curriculum and instruction for the N.C. Department of Public Instruction. "Having a more consistent set of common standards provides a level playing field. All of our teachers will now be asked to provide students with the same level of instruction – a more consistent level."
North Carolina adopted the CCSS in June 2010. While most states started integrating some aspects of the the curriculum into classrooms last year, NCDPI used that time to train teachers, align assessments and purchase resources. Now North Carolina is one of only a few states fully implementing all standards in public school classrooms this school year.
Math: More Focused and Coherent
The CCSS for Mathematics move away from a curriculum that is "a mile wide and an inch deep" and toward fewer standards that "aim for clarity and specificity," according to the curriculum introduction.
"The current set of math standards we have is every extensive and very thick," says Pitre-Martin. "Now the standards will be developed across grade levels at a higher level of rigor each year, so by the time (students) are ready to exit, they have better knowledge of subject."
There will be three main changes in CCSS math:
1. Narrowed focus. Students will more deeply explore the concepts emphasized in the standards.
2. More coherence. Students will link major topics throughout the grades.
3. Redefined rigor. Rigor is being defined as conceptual understanding, procedural skills and fluency, and application.
"What we want for our students is for them to not only be able to perform procedural skills, but also perform them at a high level of fluency," says Pitre-Martin.
The eight standards for mathematical practice require that students be taught to:
1. Make sense of problems and persevere in solving them.
2. Reason abstractly and quantitatively.
3. Construct viable arguments and critique the reasoning of others.
4. Model with mathematics.
5. Use appropriate tools strategically.
6. Look for and make use of structure.
7. Attend to precision.
8. Look for and express regularity in repeated reasoning.
Common Core math is "enticing," says Ruth Steidinger, senior director of middle school programs for Wake County Public Schools. "More time is spent building depth of knowledge as opposed to building knowledge that is less substantive."
English Language Arts: Integrated and Informational
The CCSS for English Language Arts also will be integrated into reading history/social studies, science and technical subjects starting at grade six. For K-5 students, these subjects will be integrated into reading lessons. The standards are "intended to be a living work," so as new and better evidence emerges, the standards will be revised accordingly, the curriculum introduction states.
The three main changes in CCSS for English / Language Arts are:
1. Grounding reading and writing in evidence. Students will be required to support what they're writing about and will answer more text-dependent questions.
2. More regular practice with complex text and vocabulary. Teachers will collaborate on lesson plans to make this happen.
3. Building knowledge through nonfiction and informational text. Students will continue reading fiction and novels, but there will be an increased emphasis on reading nonfiction and informational text.
Students who meet the CCSS for English Language Arts will:
1.  Demonstrate independence.
2.  Build strong content knowledge.
3.  Respond to varying demands of audience, task, purpose and discipline.
4.  Comprehend as well as critique.
5.  Value evidence.
6.  Use technology and digital media strategically and capably.
7.  Come to understand other perspectives and cultures.
Educators believe students who meet these standards will be college-ready and employable nationwide.
"Today there are different academic standards in every state, and too many states have standards that do not effectively prepare students for college and careers," says Magda Parvey, assistant superintendent for instructional services for Chapel Hill-Carrboro City Schools. "Consistent standards will provide appropriate benchmarks for all students regardless of where they live and allow states to more effectively help all students succeed."
Essential Changes
The CCSS increase academic rigor for students in math and language arts, but North Carolina educators also want to strengthen the curriculum for other subjects. The solution: Development of the North Carolina Essential Standards, which focus on science, social studies, information and technology skills, career and technical education, the arts, healthful living and world languages.
"The North Carolina Essential Standards were adopted by our state and are all for content areas, so everybody is getting a new shift," says Steidinger. "Every single teacher is going to feel like a first-year teacher next year."
Tests, Training and Benchmarks
In order to prepare teachers for adoption of the two sets of standards, NCDPI developed Race to the Top Professional Development Teams consisting of 18-20 individuals who specialize in all content areas. These teams attended six cumulative two-day summer institutes and regionally based training in the fall and spring, as well as specific subject-based sessions. The purpose, says Pitre-Martin, was to place content experts in each district who would, in turn, train teachers.
NCDPI began implementing the N.C. Teacher Evaluation Instrument and Process two years ago to track teachers' performance, and is in the process of developing "measures of student learning," or MSLs, that will arm teachers and administrators with data about how students are learning.
"As we phase MSLs in and use growth data, we'll look at student data over time," says Pitre-Martin. "One year's worth of data isn't sufficient to track teachers' progress."
How will end-of-grade and end-of-course tests change as a result of adopting the CCSS? North Carolina public schools will test students with modified EOGs and EOCs that align with the new standards until 2014-15, when the state will adopt more final versions of the tests being collaborated on by a consortium of several states, including North Carolina. This group, called the Smarter Balanced Assessments Consortium, aims to develop valid, reliable and fair next-generation assessments aligned to the CCSS that all participating states can use consistently.
"The Common Core State Standards promise rigorous standards and consistency from state to state," says Parvey. "The 21st century skills embedded in the Common Core will promote students' ability to think at higher levels, reflect, analyze, influence, evaluate and communicate."
Beth Shugg is a mom of three and associate editor of Carolina Parent magazine.
Resources
• Common Core State Standards: corestandards.org.
• NCDPI CCSS and North Carolina Essential Standards wiki page: ncdpi.wikispaces.net.
• State testing calendar: dpi.state.nc.us/accountability.
• Smarter Balanced Assessment Consortium: smarterbalanced.org.
When creating the Common Core State Standards, the National Governors Association Center for Best Practices and the Council of Chief State School Officers relied on international models and decades of research and input provided by state departments of education, scholars, assessment developers, professional organizations, educators, parents, students and other members of the public.