A Charlotte Parent Invitation … Excuse me, Challenge!
Taking the challenge to find time for fitness.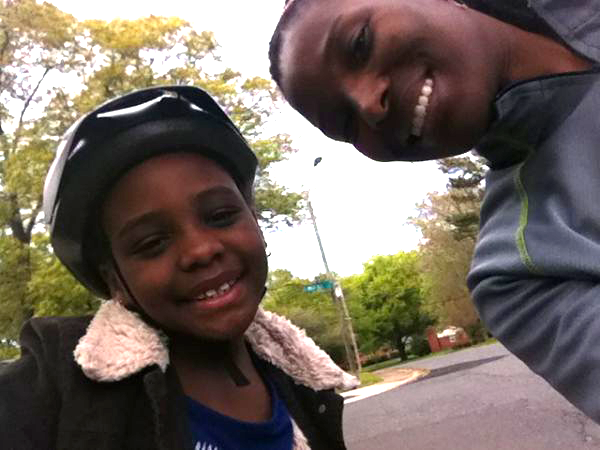 As I write this, I am also telling myself that I'm not the only one who is obsessed with clicking those "submit here" buttons at the bottom of every online form. OK, I'm being dramatic. Obsessed is an exaggeration, but I do really like those buttons. The kid in me does that little kicky feet, fists in the air jig whenever I get to push one. Maybe it stems from childhood; you know, hustling to the elevator ahead of your brothers and sisters (and sometimes other kids) so you can push the button first? I digress.
As an adult, whether I'm placing an order, making a donation or registering for some customer loyalty program, clicking that digital button is equivalent to checking the box, or crossing something off of my list. It's done. It's easy. And the gratification is instant.
My attraction to these colorful little buttons, and my frequent use of the Charlotte Parent website, prompted my knee-jerk reaction to enter into the Fit Family Challenge Spotlight Family search. I didn't completely process what I was signing up for at the time, nor did I check with my family first, but as the lady of the house, I am certainly entitled to make that executive decision. Besides, my little family consists of just me and my 9-year old daughter, Lena.
Surely participating in the challenge wouldn't change things too much – we did participate in last year's Fit Family Challenge, but don't go looking up our record or anything. Lena was less than enthused about our involvement in the Fit Family Challenge when I dropped the news on her in a rush after school one day, until I changed my pitch and explained how this was an opportunity to not only improve on our participation from last year, but to also invite others to the party — the "family fitness party." Lena loves supporting and encouraging other people just as much as I do, and she loves to have fun, so with those few words she was on board. Can you hear it? The sound of me pushing the easy fitness button? *smile*
After meeting with the wonderful Charlotte Parent Fit Family Challenge experts, and receiving a collection of tips and resources, it became quite clear to me that this was not going to be as simple as pushing my beloved easy button. The challenge to my family's participation is squeezing all of these new activities and strategies into one day. Everyday. Ultimately, the effort behind this whole thing begins and ends with me, and I'm already stuck in the never-ending game of trying to find more hours in the day.
I began to wonder how all of this was actually going to play out, until Lena and I saw a poster at her school promoting National Bike to School Day coming up in May. The very next day, Lena was riding her bike to school – willingly! It was all her idea and she was doing it with such excitement and pride. I was encouraged! I decided that I would jog alongside her and it instantly becomes a workout for the both of us. Oops, another bad word choice. It's my intention to be transparent about this entire process and the word "instantly" does not describe our struggle to get up and out of the house early enough for this bike riding/jogging excursion, but it has become a routine that is just as welcome in our home as an extra hour of sleep would be. Maybe Lena and I will stop and do that little kicky feet, fists in the air jig in honor of this encouraging start, because this is progress for sure.
---
Ami Hill, 35, and her daughter Lena, 9, are participating as one of our 2016 Fit Family Challenge spotlight families. Learn more about their healthy family journey here, and follow along with Ami as she updates us this Spring and Summer in the Fit Family Challenge Blog.