A Celebration of Culture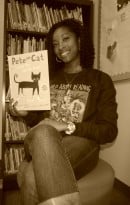 The month of February brings about brisk cold, Groundhog's Day, Valentine's Day, and the celebration of a culture: African American culture. Take some time this month to engage your child in books and activities that celebrate African Americans both past and present. Here are some titles to choose from:

Back of the Bus by Aaron Reynolds tells the story of a young boy and his mother riding the city bus in 1955 Montgomery, Alabama. The young boy is playing with his beloved marble when his attention is directed to a loud commotion in the front of the bus; an African American woman is refusing to give up her seat to a white man. This story is great for introducing young children to topics of race, segregation, and equality as it recounts the December 1955 arrest of Rosa Parks, an event that sparked the Civil Rights Movement.
Preschoolers and early elementary students will also enjoy Brick by Brick by Charles R. Smith Jr. as he tells the riveting story of the many hands, including those of free and slave blacks, that built the White House in the 1790's.
Jabari Asim tells the story of former slave, educator, author, and orator, Booker T. Washington in his book titled, Fifty Cents and a Dream. Walking 500 miles to Hampton University with only 50 cents in his pocket, Washington was determined to receive an education and make a better life for himself. A story of courage, triumph, and determination, Fifty Cents and a Dream is great for school age children.
Looking for a book for your preteens? Brown Girl Dreaming by Jacqueline Woodson would be a great pick. Winner of the 2014 National Book Award, Brown Girl Dreaming is the autobiography of Woodson's childhood told in poetic form. As an African American girl growing up in South Carolina during the Jim Crow era, young Jacqueline tries to understand and make sense of the segregated world in which she lives. But despite the ubiquity of racism and discrimination, young Jacqueline discovers her insatiable appetite for writing and undying love for family.
Be sure to visit your local branch of Charlotte Mecklenburg Library and check out copies of these great reads today!