A Beginner's Guide to Baking Bread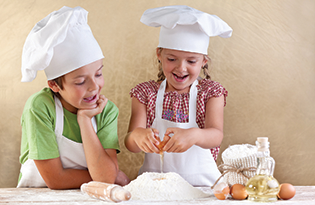 There's nothing like the aroma of a batch of fresh baked bread or rolls in your oven and the taste your family will enjoy once the baking is done. The art of baking bread starts off as a science lesson, so baking can be a great way to make learning fun.
The most important ingredient in the bread-baking process is yeast. It is what helps the bread to rise. Two things can kill yeast — age and heat. To see if the yeast will rise in your bread, test it — or proof it — by creating conditions in which the yeast will begin to grow. Young bakers will have fun watching this process.
Start with a liquid that is not hotter than 110-115 degrees. You can get an exact temperature reading on an instant-read thermometer (available in most hardware stores or in the gadget sections of higher end kitchen/houseware shops), but it is helpful to know that 110-115 degrees is not hot. It isn't even lukewarm.
Once your liquid is the right temperature, add a teaspoon of sugar to feed the yeast. Combine the water called for in the recipe with the sugar and yeast in a measuring cup and stir it. If after five minutes, you don't see bubbles and then foam, then either the yeast was too old or the water was too hot. Dump that batch and try again with a new package of yeast. As soon as you notice bubbles appearing on the surface of the water, you can move on with the recipe. If after the yeast has proofed, you add other ingredients that are too hot – melted butter or scalded milk, for example – that heat can kill the yeast, so the best bread-baking advice is to work with everything at room temperature.
A food processor or a mixer with dough hooks can do a lot of the heavy-duty work, but kneading by hand is a real tactile experience and is more fun for the kids. Take care not to knead in too much flour. If the recipe calls for a range of flour measurements, always start with the smallest amount. You can always add in more, but once it's in, you can't take it out. The final ball of dough should be soft, elastic and a bit sticky — not smooth, soft and floury.
After the dough is kneaded and all of the ingredients are combined, the dough will need to rest and rise about an hour. Cover the bowl of dough with a dishtowel and put it in a place with a consistent temperature.
After the dough has risen, punch it down to break up air bubbles that may have formed during the rising. Then shape the dough for baking, placing it in a loaf pan, braiding it or dividing it into rolls. Prepare your pan or baking sheet by lightly oiling it and sprinkling it with cornmeal. Allow the dough to rise on the pan for another 20-30 minutes and then bake in a preheated oven.
Heidi Billotto is a culinary expert who hosts cooking classes throughout Charlotte.