9 Things to Do with the Family North of Charlotte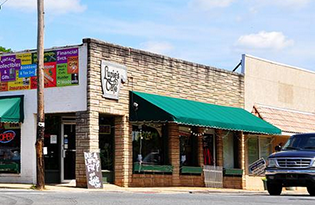 FAMILY DINING
Lupie's Café
101 S. Old Statesville Road, Huntersville
704-948-3959
There is no kids menu at this no-frills cafe, but the dishes found on the regular menu are the homey comfort foods that little ones love anyway, such as meatloaf, chili, burgers and sandwiches. The best part – it's not expensive either. Hot dogs are $2.95 and sides start at $1.10.
Carolina Cones
20801 N. Main St., Cornelius
704-892-8190
This small family-owned shop serves almost 50 flavors of ice cream and yogurt, including delicious combinations such as peanut butter pretzel, moon pie and chocolate amaretto from spring until fall. A trip to this longtime hometown favorite means generous portions, plenty of outdoor seating, a playground and the chance to admire the model train running around the ceiling.
Toast Café
101 N Main St., Davidson
704-655-2778
toastcafeonline.com/davidson
This small spot in the heart of Davidson is for families who see breakfast or brunch as something to savor rather than rush through. Though Toast Café also serves lunch, and dinner Wednesday through Sunday, many folks find breakfast/brunch the most tempting with fluffy omelets, stuffed French toast and even gluten-free pancakes. Dinner includes a wide variety of main dishes as well as a children's menu and a three-course prix-fix menu.
FAMILY FUN
Discovery Place Kids
105 Gilead Road, Huntersville
704-372-6261
huntersville.discoveryplacekids.org
The folks behind Discovery Place Kids know that imaginative, hands-on play is the best way for children to learn about the world. Explore themed environments, from I CAN Grow designed for toddlers to a whole "town" where children can role play different careers, as well as areas for underwater exploration, gardening, art and more. Perfect to make a day of it with kids under 10, but be sure to pack a lunch because there is no on-site restaurant.
Latta Plantation
5225 Sample Road, Huntersville
704-875-2312
lattaplantation.org
At the heart of Latta Plantation Nature Preserve is the 1800s cotton plantation. Learn about the homestead, which looks much like it did when the Latta family lived here 200 years ago, through living history tours and events. Within walking distance is the Carolina Raptor Center where you can get up close to the birds of prey, and Latta Equestrian Center with trail and pony rides. With the Nature Center, 16 miles of trails and access to Mountain Island Lake, you can easily spend a day here.
EnergyExplorium
13339 Hagers Ferry Road, Huntersville
800-777-0003
duke-energy.com/visitor-centers/energyexplorium.asp
Located at McGuire Nuclear Station on the south end of Lake Norman, the free EnergyExplorium invites visitors to discover how electricity is made. Take a virtual tour of the nuclear power plant, play games to learn about electricity, weather and saving energy, and test your knowledge through the Energy Master Challenge. Watch a short film on how Lake Norman – a man-made lake – was built. Afterward, take advantage of the picnic area and trail around the lake.
OUTDOOR FUN
Jetton Park
19000 Jetton Road, Cornelius
704-896-9808
parkandrec.com
This scenic county park is ideal for a family afternoon outdoors. The 1.5-mile paved trail loops around the park and is shaded in many parts with views of Lake Norman. The playground is also shaded and the restrooms are usually quite clean. Decks have grills and there are plenty of picnic tables, perfect for a picnic lunch or a family celebration. There is also a small beach, but no swimming is allowed. From March to October there is a $3 car entrance fee.
Lazy 5 Ranch
15100 Mooresville Road, Mooresville
704-663-5100
lazy5ranch.com
The 3.5-mile safari drive (or horse-drawn wagon ride) through this wild animal park gets you a car window away from some of the world's most amazing animals – zebras, giraffe, rhino, emus, kangaroos and Watusi cattle to name just a few of the more than 750 animals. Get out of the car as well to visit camels, llamas and goats. Even the littlest visitors enjoy feeding the animals from buckets. Numerous covered picnic tables, a concession stand with ice cream and a large playground round out this one-of-a-kind outing.
Patterson Farm
3060 Millbridge Road, China Grove
704-857-5242
pattersonfarminc.com
Pick your own strawberries in the spring and pumpkins in the fall. In between, stop by the Patterson Farm market at 10390 Caldwell Road in Mount Ulla for a larger variety of its fresh-picked produce such as tomatoes, peppers, corn, squash and muscadines. Special events are designed with kids in mind, such as the Strawberry Puppet Show that includes feeding farm animals and a wagon ride. Be sure to check the event location – it may be at the market, not the farm.
Read more: 

Communities: North Charlotte