8 Places to Visit in the Olde English District This Season
In Partnership With Olde English District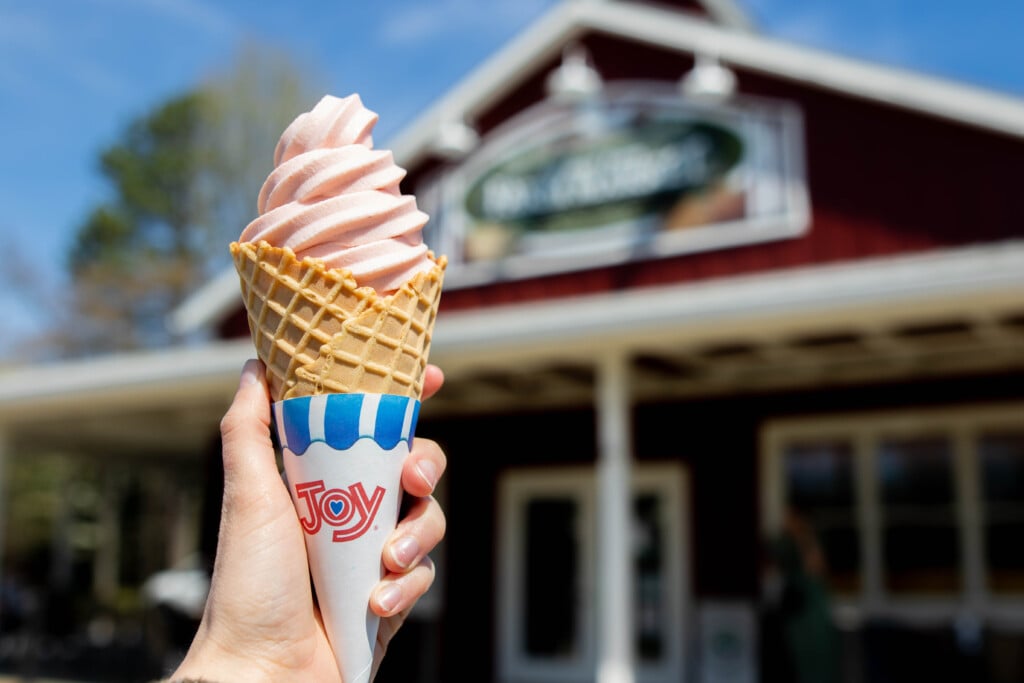 South Carolina's Olde English District comprises seven counties: Chester, Chesterfield, Fairfield, Kershaw, Lancaster, Union, and York. Among them is a trove of outdoor wonders, delectable food and drink options, and many, many surprises. Below, we've compiled eight of those must-visit locales, packed with everything from rollercoasters to rolling falls:

U-Pick Farms
Each season offers new flavors at the Olde English District's u-pick farms. Some of the region's best include Cherry Place Farm (1922 Oakdale Rd., Rock Hill); Cotton Hills Farm and Market (2575 Lowrys Hwy., Chester); Bush-N-Vine Farm (1650 Filbert Hwy., York); The Ivy Place Berry Farm (8525 Van Wyck Rd., Lancaster); McLeod Farms (29247 Hwy. 151, McBee); PK Blueberries (1854 Porter Cross Rd., Lugoff); and Springs Farm (1010 Springfield Pkwy., Fort Mill). Strawberry season typically lasts into June for the farms that grow them, with blueberries and peaches following.

Carowinds
The South Carolina side of this beloved theme park is contained within York County. Carowinds celebrates its 50th anniversary this year, with a new section in tow: Aeronautica Landing debuted recently with three all-new rides, as well as a re-imagined version of the classic Hover and Dodge. The park is also now open year-round, so if you aren't able to see it all in one day, you can always revisit. 4523 Carowinds Blvd., Fort Mill.

Lindsay Pettus Greenway
In downtown Lancaster, two miles of nature compose the Lindsay Pettus Greenway. This hard-surface recreation trail is parallel to Gills Creek, with a backdrop that blends nature and local visual art. 459 Colonial Dr., Lancaster.
State Parks
There are nine state parks inside the Olde English District, filled with waterfalls, trails, rafting, and more. A breakdown:
Chester County: Chester State Park (788 State Park Rd., Chester); Landsford Canal State Park (2051 Park Dr., Catawba)
Chesterfield County: Cheraw State Park (100 State Park Rd., Cheraw); H. Cooper Black Jr. Memorial Field Trial and Recreation Area (279 Sporting Dog Trl., Cheraw)
Fairfield County: Lake Wateree State Park (881 State Park Rd., Winnsboro)
Kershaw County: Goodale State Park (650 State Rd. S-28-331, Camden)
Lancaster County: Andrew Jackson State Park (196 Andrew Jackson Park Rd., Lancaster)
Union County: Rose Hill Plantation State Historic Site (2677 Sardis Rd., Union)
York County: Kings Mountain State Park (1277 Park Rd., Blacksburg); Kings Mountain National Military Park (2625 Park Rd., Blacksburg)

Revolutionary War Visitor Center at Camden
South Carolina played a key role in the American Revolution, and this permanent exhibit explores the Southern Campaign through both American and British eyes. Here, you'll find the "Public House," which recreates Camden's "Old Tavern" that served as a waypoint for locals and travelers hundreds of years ago. 212 Broad St., Camden.

Goat Daddy's Farm in Kershaw County
In addition to its titular Nigerian Dwarf goats, this farm is also full of heritage breed chickens, turkeys, and guinea fowl. Goat Daddy's Farm is part of the SC Agriculture Farm Passport program and the SC Ag + Art Tour. 144 Tomahawk Trl., Elgin.

Historic Brattonsville in York County
These 800 acres contain 30+ colonial and antebellum structures, an actual Revolutionary War battlefield site, a nature preserve, and more. And there are plenty of reasons to make multiple trips: Throughout the year, the site hosts reenactments, "living history" programs, and other seasonal events. 1444 Brattonsville Rd., McConnells.

South Carolina Railroad Museum
The area's railroad enthusiasts united 50 years ago to establish this museum. You'll find cabooses, freight cars, and diesel engines from industry giants CSX, Norfolk Southern, the Lancaster and Chester (L&C), and beyond. Aside from that equipment, you'll find scale model trains, seasonal rides, and much more. 110 Industrial Park Rd. Winnsboro.