8 Meal-Kit Delivery Services for Families
Parents dish on how meal-kits are changing their family dinner routines.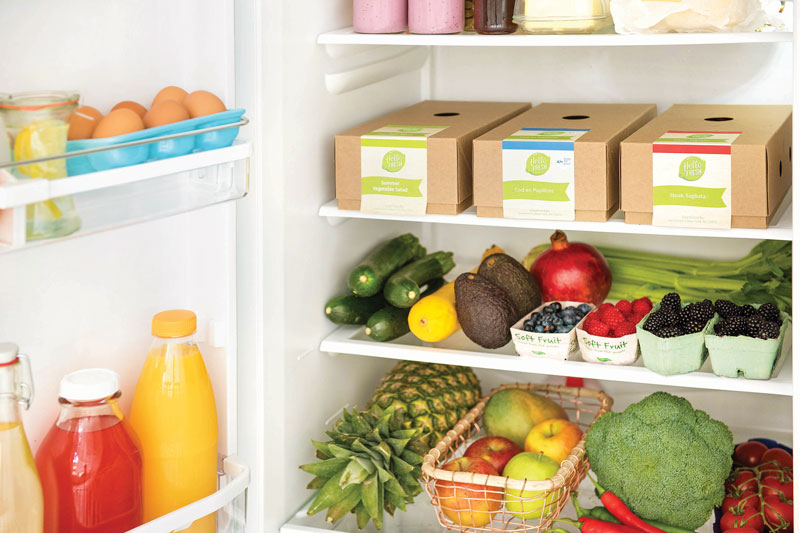 You may have heard of Blue Apron, the meal-kit delivery service that sends you a box of preportioned meal ingredients and recipes. Meal-kit delivery companies like Blue Apron certainly make tempting promises.
"You cook incredible meals from scratch," Blue Apron's website promises. "We're a cooking class meets a dinner party," PeachDish guarantees. "No planning, no hassle and no shopping required," quips HelloFresh.
The meal-kit delivery industry has exploded since Blue Apron and Plated followed European leader HelloFresh back in 2012, and now, according to a May 2016 Food Business News report, there are more than 150 meal-kit delivery services to choose from in the U.S. alone.
To help you decide if meal-kit delivery is a good choice for your family, here are some scenarios to consider.
---
Your dream: The last thing you have time for is spending an hour at the grocery store and planning healthy dinners. You're looking for convenience.
The reality: Most companies offer meal plans for two or three dinners per week. That means you still have to think about breakfast, lunch and four or five dinners. Which is to say, you'll still be going to the grocery store. And, while Blue Apron, HelloFresh, Plated and other meal-kit delivery services provide exact portions, these are meal kits, not take-out. You still have to chop, sauté and roast at home.
Having the ingredients without having to shop is worth it to Charlotte mom Shay Prosser.
"I enjoy cooking, but do not enjoy the meal planning and shopping when I'm on a tight time schedule," she says. "Plated and Blue Apron have their options planned out three to five weeks in advance, so I can sit down and plan once a month."
For Janssen Bradshaw, a mother of three and former Chapel Hill resident, she found she spent nearly as much time shopping for her nondelivered meals, and actually spent more time preparing the Blue Apron meals.
"It took me an hour to prepare each meal," she says. "I love to cook, but during the week everyone is in meltdown mode by 6 p.m., and I've got to get dinner on the table quickly between tantrums."
Some services focus on providing quicker prep. Terra's Kitchen, for example, does the chopping for you, so you just have to mix and cook, which the company promises will take less than 30 minutes. Other services, like Plated, offer a range of cook times each week so you can pick meals that suit your needs.
---
Your dream: You're tired of your regular dinner rotation and want a delicious adventure in your kitchen.
The reality: Across the board, larger meal-kit delivery companies get enthusiastic reviews on taste, quality and variety. Sites rotate their menus weekly to avoid repetition.
"I've never had the same meal twice," says Suzanne Morgen of Durham, who started with Blue Apron but found that HelloFresh offered more familiar items with an interesting twist. She has been pleased with how delicious some of these less familiar ingredients have been.
"I'd heard how healthy bulgur is but never thought to try it," she says. "I was amazed! My daughter and I loved it."
Prosser also appreciates the variety meal kits provide her family. "The services have items that are a bit more exotic than I would usually do on a weeknight," Prosser says. "Most weeknights if I don't have a meal service I am just happy to get some chicken grilled and potatoes mashed. The meal kits give us more variety."
Prosser subscribes to two meal-kit services, because even though each has different recipes and doesn't usually repeat items, she has seen some similarity in themes with ingredients.
---
Your dream: You eat out a lot and want to make healthier choices.
The reality: If you make most of your meals at home using lean meats and vegetables, meal kits are probably not going to make you healthier. However, most companies strive for balanced recipes using fresh ingredients, and provide detailed nutrition information and reasonable portion sizes. These meals are most likely providing better nutrition than what you'll get dining out or picking up prepared items at the grocery store.
Morgen realized she needed to change her family's routine of eating take-out and frozen entrees when she welcomed an 8-year-old foster child into her family. HelloFresh proved to be her perfect match.
Not only was she relieved to have menus planned for her, she found it easy to follow the recipes and thought the food was delicious.
"My favorite was gnocchi with butternut squash and brown butter," she says. "I thought it would be too fancy and I'd hate it — it was one of best things I've eaten in my life."
Morgen has been delighted to find that her daughter likes eating — and preparing — the dinners.
"Now that she's involved, she's more interested in the food and more likely to try new things," Morgen says. "It has even helped with her vocabulary — the food has become a great part of our dinnertime conversation."
Prosser has noticed there are challenges with meal kits if you avoid certain foods. "I try not to eat very much gluten, and it can be challenging figuring out which meals to order," she says.
Like Terra's Kitchen, Raleigh-based 80Fresh co-founder Bart Creasman says his company's meal kits are prepped, chopped and ready to go from the box to the table in "20 minutes or less."
80Fresh, which launched in partnership with personal trainers to help clients achieve fitness and health goals, gets most of its produce at the North Carolina State Farmer's Market in Raleigh. Nutritionists plan the menu. Creasman says the portion sizes are just right for a health-conscious adult and definitely work for kids.
"You might have to supplement if you've got growing teenagers," he adds.
---
Still Can't Decide?
Most of these companies are confident customers will like their services, and many offer discounts on your first order to make sampling their food a bit more affordable. Also, if you're lucky enough to have a best friend who has a membership, some of the companies like Blue Apron, occasionally advertise a free-meal-kit-for-a-friend offer.
---
Meal Kit Price Comparison
Here's a breakdown of how much the services mentioned in this article cost. Check individual sites for details, as there is quite a bit of flexibility built in.
80Fresh: Serves two people twice a week for $42 or $10.50 per serving.
Blue Apron: Serves four twice a week for $69.92 or $8.74 per serving.
Fresh Realm: Offers wide range of services, from $7.75 to 20.75 per serving.
HelloFresh: Serves four twice a week for $69.92 or $8.74 per serving.
Peach Dish: Serves four once a week for $50 or $12.50 per serving.
PLATED: Serves four three times a week for $144 ($96 your first week), or $9 per serving.
Purple Carrot: Serves four people twice a week for $74 or $9.25 per serving.
Terra's Kitchen: Offers wide range of services, from $9.99 to $18.99 per serving.