8 Great Holiday Books for Kids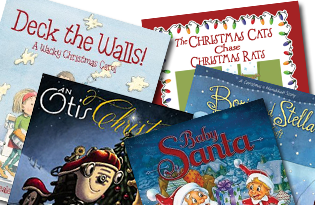 Fireside Reading
Snuggle up with a cozy cup of hot cocoa and enjoy this collection of picture books with your little ones this holiday season.
Baby Santa
M. Maitland Deland
An enchanting tale of Santa's young son helping his father delivers gifts. A heartwarming tale that demonstrates the importance of families working together with illustrations by Phil Wilson. $14.95.
Boris and Stella and the Perfect Gift
Dara Goldman
Get in the holiday spirit with this story that shows the importance of friendship and tradition. Follow as two friends sell their possessions in order to give meaningful gifts.
Deck the Walls: A Wacky Christmas Carol
Erin Dealey
A "quirky" tale of. the classic holiday carol illustrated by Nick Ward. This fun-filled version will excite children about the best gift of all: family. $14.99.
Little Snowman Stan
Guido van Genechten
There's a myth tha. snowmen are not allowed to move, or they will melt. Children will discover inside this "snuggly" read that life without taking risks wouldn't be much fun through Stan's new experiences and friendships. $16.95.
Santa: A Scanimation Picture Book
Rufus Butler Seder
This fun and interactive story presents Santa all around town in moving through the magic of scanimation technology. The jolly St. Nick hula-hoops and even juggles.
An Otis Christmas
Loren Long
An Otis Christmas by Loren Long (Philomel Books, $17.99) features Otis the tractor who plays an important role on the farm, where a horse is expecting a foal. When something goes wrong on Christmas Eve, Otis comes to the foal's rescue. Ages 3-5; hardcover. $17.99. amazon.com.
The Christmas Cats Chase Christmas Rats
Constance Cocoran Wilson
A Seuss-ical tale in which the Christmas Cats learn that rats should be viewed as individuals too. The story builds upon the idea of keeping an open mind, and learning to appreciate each other's differences. Quad City Press, $14.95. Available at amazon.com and barnesandnoble.com.
Olivia Helps With Christmas
Ian Falconer
Christmas is coming, and Olivia is incredibly busy. She has to wait for Santa, make sure Dad sets up the tree, watch Mom make the Christmas dinner, and, of course, open her presents! Whew, being helpful during the holidays is exhausting. Ages 3-8. $7.99. simonandschuster.com.
Related Links:


2013 Gift Guide: Books, Music, DVDs

2013 Gift Guide: Stocking Stuffers

Classic Christmas Books