8 Fun Ways to Celebrate Earth Day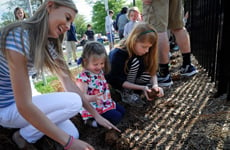 Like any other holiday, Earth day is a day to remind you of the precious gifts you already have. Not only should this day remind your family to give back to the planet but it should also be something that your family strives to do every day. Below, The Smart Playrooms team of two moms/teachers share eight fun ways to celebrate Earth Day with children.
1. Plant a Tree
Planting is one of the most traditional ways of celebrating Earth Day. By fostering trees, children can help reduce gas emissions from greenhouses and enable long-lasting biodiversity in their communities. This commonly practiced activity is appropriate for school-aged children as it is incredibly impactful but fairly simple to execute.
2. Host a Garage Sale or Clothing Swap
For many people, the things they don't want or no longer need take up a lot of space and resources. Repurposing these items for those who can use them is an earth-friendly way of reinforcing recycling and generosity. Garage sales are fairly easy to coordinate and can be done at home or even in a school setting. Children can take the time to de-clutter their spaces and find a home for their old toys and clothes.
3. Organize Your Playroom or Classroom
Getting organized around the house and in the classroom is a huge task but is full of long lasting benefits. Smart Playrooms' Reorganization and Design service equips anyone with tips and tricks on space conservation and repurposing. Redesigning a space children play in can transform it into a room for inspiration. By taking toys and furniture that already exist, you can convert cluttered spaces into an organized environment that far exceeds the span of earth month.
4. Community Clean-Up
Assembling a group of children together to pick up trash and waste in your neighborhood is a fun way to reduce pollution. This hands-on and collective effort beautifies local neighborhoods and bonds everyone in the process. Before going into the field, be sure to review your neighborhood's restrictions and safety guidelines to protect both children and adult volunteers. Make sure you've carefully delegated tasks and your clean-up route to use your time efficiently.
5. Wear Earth-Toned Colors
Having your children wear earth-toned colors like brown and green is one of the simplest ways to create awareness.
6. Build a Birdhouse
Nature crafts are a kid-favorite during Earth Month. Installing birdfeeders encourages the local bird population. To create the birdhouse, used recycled materials from home like guitar strings or juice cartoons to drive home the importance of reuse. This is a project that will allow your children to express themselves creatively while nurturing our ecosystem.
7. Write a Letter
If you are a teacher, consider taking a day to have your class write a letter to your local government on ways to improve your environment. You'd be surprised what great ideas children come up with. In even better instances, your class' idea may even come into fruition! Teaching children that they have power to make change to our environment is priceless.
8. Coordinate an Energy Conservation Campaign
Schools can coordinate a period during the school day to shut off the lights and computers in the classroom. Turning off the light is not only relaxing, it shows children school-wide the importance of saving energy. Awareness is the largest take away for a child on Earth Day.