8 Apps Your Kids Use and You Need to Know About
Many kids go out every night but they never leave the house. Where are they going? Here are a few of the places they hang out.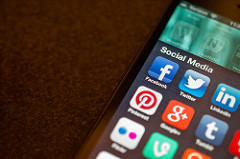 What if your 12-year-old child opened the front door of the house after dinner one dark night and called out, "Bye! I'm going to hang out with my friends. I'm not sure where we will go or when I will return. I don't know what or whom I might meet or what I will do or see, but I'm leaving now"? The door slams and he vanishes. You are exhausted, you have work to do after cleaning the dinner dishes, and you want to just unwind for the night and maybe catch a TV show or check your Facebook. What would you do?
Many kids go out every night but they never leave the house. Where are they going? Here are a few of the places they hang out:
1. Facebook
Facebook is a social networking website that allows you to connect with family, friends, and businesses. It was originally designed for college students, but today anyone over the age of 13 with a valid email address may join Facebook. Although teens are not using it as much, they still have accounts due to the popularity of it. Be sure to have privacy controls set for your child, and monitor the time. Hours of time can be wasted surfing Facebook.
2. Twitter
Twitter is a micro-blogging site that allows a person 140 characters to post a message; a tweeter can also post a picture and/or video. Teenagers utilize this site to not only tweet, re-tweet but also sub-tweet. Your child has access to content in his follower' messages as well as content in the followers of his followers. The location-sharing features also make it too easy for kids to post their whereabouts, which can lead to face-to-face meet-ups with strangers. Many celebrities and athletes post here, and their posts can be questionable for impressionable minds. Again, a lot of time can be wasted on Twitter.
3. Yik Yak
Yik Yak is an anonymous social media app available for iOS and Android. It allows people to anonymously create and view "Yaks" within a 10-mile radius. There are many negative messages aimed at specific people, sexually explicit messages, and posts about seeking or using drugs and alcohol. Age requirement is 17 years old.
4. Instagram
Instagram allows you to share pictures, apply filters and add hash tags in order for the photos to be more searchable and easily categorized. It also has a messaging feature called Instagram Direct, which allows you to share with 15 of your friends. This app is popular with teens. Beware of mature content. Set privacy controls.
5. YouTube
YouTube, the second most searched website behind Google, is a video sharing website. Although YouTube requires you to be 18 to have an account, if you have parental permission, you can sign up as young as 13 (like most social media apps). Adjust the privacy settings to either private user or unlisted user and enable Restricted Mode which helps filter out objectionable content. Beware of mature and inappropriate content; the Restricted Mode is not 100% accurate.
6. Vine
Vine is a video-sharing app that allows you create short films that can play videos for six seconds. You can build these videos by linking a series of pictures together or video and looking them together. Teens are currently utilizing this app, along with companies hiring "super-viners" to advertise for them. When it was first released, Vine's age limit was set at 12, but after an increase in pornography, the age is now 15. Parents need to be aware that Vine is full of content that is inappropriate for children. With the most basic creative searching, kids can find nudity, sex, drug use, offensive language, and more.
7. Snapchat
Snapchat allows users to capture videos and pictures that "self-destruct" after a number of seconds predetermined by the sender. When a user sends a message, he gets to decide whether it will live for between 1 and 10 seconds. After that it's history but Snapchat revealed a new service that allows you to pay to save snaps or you can use third party apps such as Snapbox. Or you can click a quick screenshot to save it as well. There are only two privacy settings: who can send you snaps (everyone or my friends) or who can view them (everyone, your friends or custom). The app has gained a reputation as a "sexting" app because outgoing (and incoming) pictures, videos, and texts are not stored on devices,but they can still can still be preserved via an app.
8. Tinder
Although many people associate this site with young adults, the minimum age for users is 13. Tinder is a matchmaking mobile app based on geolocation technology and it pulls data from your personal social media sites. 38% of its users are 16-24 years of age. Basically, if you find the other person attractive and both parties swipe right, then a match has been made and allows the two users to contact one another. Sometime confused with a dating site, Tinder really is a "hook up" site. It's not a good place to meet someone to date.
Most parents would never dream of letting their children especially their tweens, leave the house without knowledge of their plans. Yet every night kids head out the virtual door to a vast unknown world of social media, with more risks than the real world. While some activity may be harmless and just silly, are you and your children prepared for the dark side of social media where they can also access vulgar language, cruelty, racism, porn, and a host of other inappropriate activities? Chances are something inappropriate will crop up more times than parents are aware.
Is it all bad? Probably not. Some teens are helped by encouraging words and feelings of belonging by their peer group on social media. They find ways to thrive socially in the virtual world. However, it all requires emotional and time resources that may be better spent elsewhere during this time of development.
Is it all good? Probably not. While you may think that your teen will never willingly go down certain social media paths, think again. There is a lot of harmful, inappropriate content and most normal kids will gravitate to the novelty; it is the way their "risk-taking" brains are wired. But your children's brains are working overtime to just get the basics done (impulse control, organizational skills and homework) and they don't have the mental capacity yet to "play the tape forward" and anticipate the consequences of their actions.
Is it all necessary? Probably not. A growing number of parents are just saying no to childhood social media or saying "no for now." According to the FBI, middle school is the most dangerous age for social media use due to the naturally immature brain development of this age group. Keeping up their virtual profile takes more cognitive and emotional energy than you can imagine; it's extremely difficult for them to manage even when things seem to be going ok. As your child gets older and has stronger neuronal connections and develops deeper family attachments it will be easier for her to navigate. Because of their underdeveloped frontal cortex, they are convinced that the rules were not written for them and that nothing bad will happen to them. It is not that they are bad kids or mean for bad things to happen, they simply are not yet equipped to handle all the many twists and turns of the adult tool known as social media.
What will you do when your child heads out the social media door tonight? How about putting your phone and his in a basket in the kitchen and plopping on the couch for a good talk, a game of cards or just a hug? It is our job as parents to lend them our "frontal cortex" and place our kids on a path that will lead to success and not virtual failure. Your Facebook friends and your dishes can wait. Children grow up really fast and you don't have much time.