7 Ways Working Parents Can Make The Most Of Weeknight Evenings
How to make sure the limited weekday awake hours you have with your child are as quality as they possibly can be.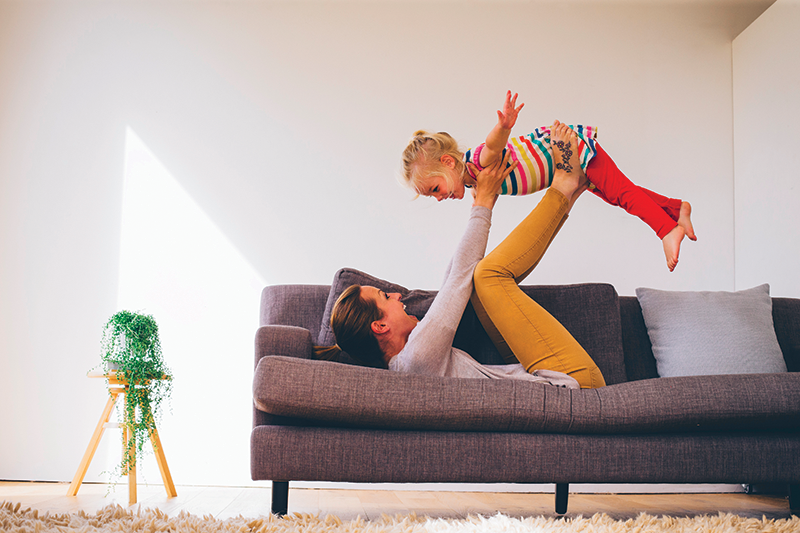 Prior to my son's birth I was on the receiving end of a lot of advice. I was told by my mother how to swaddle a baby and by my grandmother how hold a newborn. Aunts and cousins shared tips about bedtime, bath time and tummy time. Other moms carting their little ones at Babies-R-Us told me which kinds of breast pads and bottle brushes were the best. Sometimes strangers on the street even offered unsolicited advice about more personal aspects of parenting, such as breast-feeding and post-delivery care. I thought I'd heard input about just about everything baby related until, almost nine weeks after my son was born, I headed back to work and realized that no one had told me how to make this "working parent" thing work .
I love being a mom and I love my job, but it felt like there were simply not enough hours in the day. I had about four and a half hours in the evening from the time I got home until my son went to bed and I wanted desperately for these hours to be full of quality time. After much trial and error, I've found a few ways to make sure the limited awake hours I have with my son are as quality as they possibly can be. I hope these tips help you cut some of stress out of the 6 p.m. scramble.
---
1. Never cook just one meal.
Sharing family dinner is important to me. I see dinner time as an opportunity to connect as a family, as well to help my son begin to develop life-long healthy eating habits. Unfortunately, cooking a high quality meal from start to finish often takes close to an hour. To eliminate this time crunch, I make sure to maximize the time I spend cooking by making meals that can be served more than once. When I make a pot of soup on Saturday or lasagna on Sunday, I double the recipe and freeze half, reheating the second portion on a weeknight when time is tight. Freezer meals are a great way to stay healthy and save time.
---
2. Find outings close to home.
When I first went back to work, I tried to make the evening fun by doing special things, such as going to the great park across town with the slide my son loved, or attending the music class that he adored. But these activities left me sitting in traffic until 7 p.m. I soon realized that I didn't want to spend all of my mommy time behind the wheel, so I took out a pen and paper and wrote down all the great things within a five-minute drive of my house. My list includes a park, a library, a YMCA, a frozen yogurt shop and several great walking trails. The park isn't the best one in town and there are other trails we like better, but I've found my son hardly notices the difference, and we find time to hit up our further away favorites on the weekends.
---
3. Minimize the time you spend doing chores.
While I was on maternity leave I was able to keep the house in pretty good shape. It was tough in the first few weeks, but soon I realized that I could pop my son in the Ergo baby carrier and do laundry and dishes for as long as I needed. As soon as I went back to work I realized that to keep our house as tidy as I wanted, I would have to spend nearly the whole evening cleaning instead of playing with my son. To solve this dilemma my husband and I agreed that we would each commit 30 minutes an evening, right after our son goes to bed, to cleaning — no more, no less. Limiting the time we spend cleaning helps us prioritize and, since we do it every night, the house actually stays in pretty good shape. Sweeping and vacuuming happen less often that they used to, and sometimes the pile of laundry in my son's room gets dangerously high, but we are happy, my son is happy and the house looks absolutely OK.
---
4. Make the things you have to do be a great experience for your little one.
Even after adjusting your expectations and cutting out as many chores as you can, there are simply some things you must do. As frustrating as last-minute errands or unexpected messes can be, I work hard to view them as opportunities to get creative rather than as chores. A last-minute trip to the grocery store can become a lesson in colors, numbers, fruits and vegetables and a trip to the post office can become a game of "I Spy." Kids often take our cues about what's fun and what's not. I've found that by keeping a positive attitude I can make nearly anything fun for my little guy.
---
5. Make bedtime special.
Early in my working-mom days, I dreaded my son's bedtime. He wasn't yet a reliable sleeper and all I saw as I tried to get him down was a ticking clock. With hard work though, I have transformed bedtime into a special time that my son and I both look forward to. Our routine is simple: a bath, a story a song and a cuddle, but these 30 minutes are often my most treasured of the day.
---
6. Minimize digital distraction.
When my husband and I arrive home from work, we place our phones in a basket in our front hall. They stay there until after my son is asleep. Making sure I'm fully present while I'm with my son helps to ensure that we are both getting the most out of our time together.
---
7. Keep a list quick, quality activities.
Weeknights are not the time for sprawling arts-and-crafts projects or for board games that take hours. Make the most of the 20 minutes it takes for dinner to bake or the 15 you have before bedtime by keeping a list of quick, quality activities and by keeping the supplies accessible. A few shorter activities that we love are playing in the water table, taking a walk around the block, painting with watercolors or Skyping with grandma and grandpa.
---
Julia Pelly has a master's degree in public health and works full time in the field of positive youth development. She lives in east Charlotte with her husband and her son and is excitedly expecting another baby this winter.