7 Tips to Help Your Child with Homework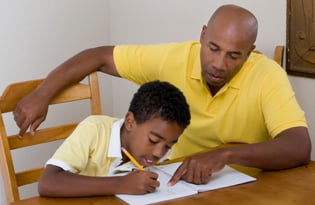 The pressure to make stellar grades raises anxiety levels about homework for students and parents. Whether trying to review progress or give assistance, parents often feel the same type of homework anxiety that their child experiences. Expert tutor and co-founder of "Parent Tested Parent Approved" online interactive tutoring service Virtual Nerd, Leo Shmuylovich has some helpful suggestions for parents based on his experience working with hundreds of students. 
• Remove Distractions: Remove all distractions during designated study time. You can provide your child with a distraction-free workspace by eliminating potential distracters such as mobile phones, TV's and extraneous conversations from the designated study area (including yours!). Make sure if the computer is being used, it's for homework.
• Be Your Child's Champion:  If you can't directly help your child, make sure that those who can do! Communicate directly with his or her teacher and tutor, and review homework and quizzes.
• Don't Wait, Start Now!: Start this week by working on current homework problems every night with your child. This will help you determine if there are issues and you can begin to address them now before they become overwhelming for you and your child.
• Reduce Test-Taking Anxiety: If your child gets good grades on homework, but scores poorly on test, it may be anxiety related. Simulate the high-stakes test environment by asking them to solve problems in a defined period of time without the help of their book or computer.
• Make Your Child the Teacher: Ask your child to explain the concept to you. If they can explain it to you, then they can work the problem.
• Practice Makes Perfect: Ask the teacher for extra worksheets and check your local bookstore for workbooks by course if your child needs more practice problems.
• Tap Online Resources for Assistance: If your child doesn't know a rule or concept within a larger concept, use online resources to review or teach a concept. Sometimes hearing something explained in a different way can make a difference.
"It can be challenging for parents to intervene when their child is struggling with homework' says Shmuylovich, "sometimes the best thing they can do is offer help indirectly which minimizes the chance for conflict between the parent and child".
Leo Shmuylovich is co-founder of Virtual Nerd. As a tutor and lecturer for The Princeton Review, he taught MCAT Physics and Biology classes, as well as SAT Math classes, to hundreds of students.