7 Things to Know About 'MoLi'
Step inside and explore Charlotte Mecklenburg's new mobile library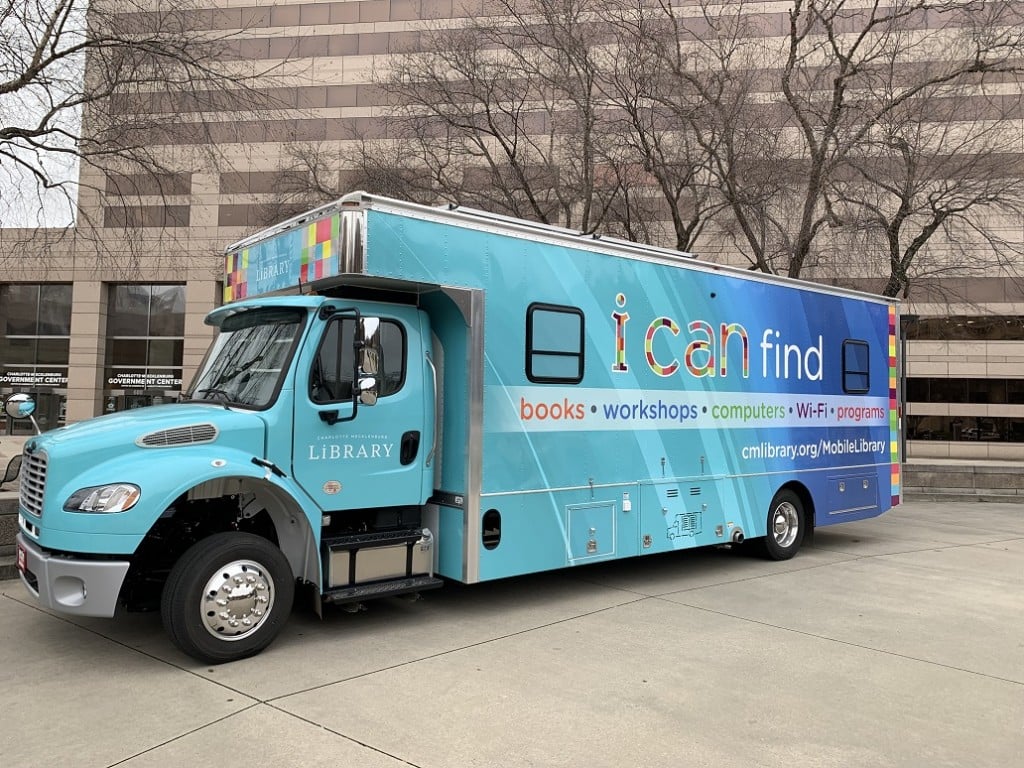 A mini-library on wheels named MoLi (pronounced "Molly") took to the open road at the start of the year. Here are 7 cool things to know about the library's newest addition.
A New Generation
Did you know MoLi isn't the first traveling library in Charlotte? The Queen City's first bookmobile launched in December 1937 with the goal of serving rural communities and soldiers stationed at an airbase on the outskirts of Charlotte. In 1949, the original bookmobile was retired and two new bookmobiles were purchased. Due to growing expenses, the program ended in 1966.  MoLi is the next generation of mobile libraries and will travel to areas with low or no access to a physical library building.
Whiz on Wheels
The retrofitted, 33-foot long Freightliner is a true "smart car." The interior is packed with over 2,400 physical items including books, audiobooks, magazines, teen fiction, graphic novels, a Spanish selection, CDs, DVDs, and 8 public-use Chromebooks.
Accessible for All
MoLi is as accommodating as she is brilliant. Enjoy free wi-fi access inside the mobile library and within a 50-foot radius of the vehicle. MoLi is also ADA-compliant with a wheelchair lift for accessibility and has large print and audiobooks. Seating is available for those who want a more comfortable MoLi experience.
Complete Library Services
The mobile library will offer all the same programs and services of a brick-and-mortar facility in a compact space. Families can check out or renew books, talk to a librarian, or take part in storytime, a digital literacy class, workforce development workshop, and more.
Follow MoLi
Look for MoLi in area neighborhoods, schools, recreation centers, retirement homes, and other fun stops. Check out MoLi's monthly schedule to see where she'll be rolling into next. You can also let library staff know of additional places the mobile library should visit by completing the online form.
Going Green
MoLi is upfitted with the latest and greatest in green and health technology. Utilizing an onboard air filtration system, the compact space stays clean and comfortable and helps mitigate COVID-19 and other pathogens. Her diesel generator and power functions are fueled by four solar panels on top of the roof.
Hooked Up
MoLi is much more than a library. She will also spend her time hosting community events and special programs. With a state-of-the-art indoor and outdoor audio-visual system, high-tech speaker system, 65-inch outdoor display, and two large screens inside, MoLi is ready to put on a show.