6 Subscription Boxes Every Mom Needs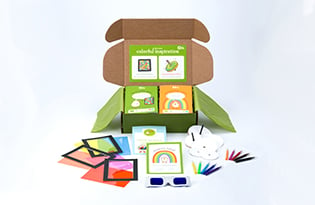 Whether you're a trendy mama or a crafty mama, there's literally a monthly box for you, filled with goodies of course.
1. Ecocentric Mom
Every mom needs a little pampering in their life and the Ecocentric Mom Box gets the job done on a consecutive basis. Enjoy a variety of eco-friendly products geared towards a more simplistic pure life. From fresh herbs to go in your next quiche dinner to helping you solve your menstrual cycle the natural way, Ecocentric Mom boxes has got you covered. $24.99/bi-monthly. Ecocentricmom.com.

2. Kiwi Crate
If you're looking for different ways to engage your kids, then the Kiwi Crate monthly box is perfect for you. Every month the kids will be in for a treat because this box is packed with fun, creative, crafty ideas to get your kids making new adventurous innovative art projects. This box is designed typically for 2-3 year olds. $16.95/12-month subscription. Kiwicrate.com.


 
3. Little Passports
Even if you can't show your kid the world, Little Passports can bring every country right to your doorstep. Filled with crafty activities and fun interactive information about every country from Chile to Jamaica, watch your child light up with excitement. $11/month. littlepassports.com.

4. Young Scientist Club
If you've got a little Einstein running around in your house, you don't want to miss out on The Young Scientist club box. For ages 5-12, each child can engage in mini experiments that will spark an interest in the science world. $11.99/month. theyoungscientistsclub.com.

5. Citrus Lane
Okay, okay we can't help ourselves. Another favorite that we believe you'll enjoy is the Citrus Lane monthly box. From books to toys, every product is hand-picked for your child to discover.  $25/month. citruslane.com.

6. Olivebox
For the mom's that love tradition and the feeling of opening up personalized invitations and thank-you cards, Olive Box has dedicated their products just for you. Each month ,moms can enjoy trendy, modern stationary products that will not only wow your next guests for your kids birthday party but even the very picky in-laws. Thank us later. $25/month. myolivebox.com.

Related links:


5 Must-Have Pieces for Every Mom

5 Ways to Look and Feel Your Best

The Perfect Bag for Every Occassion