6 Places in Charlotte to Have a Transportation-Themed Birthday Party
Spin some wheels at a skate park or with go-karts.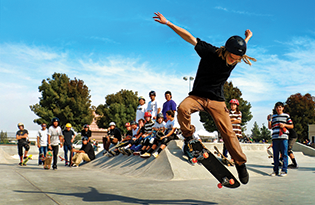 AGES 2-4
Head down to Southend with the tots for a party aboard a real trolley. The Charlotte Trolley Museum invites children to climb aboard the 112-year-old wood relic, still in its original condition —flip seats and all. For movers and shakers, ride the Lynx Blue Line from I-485 to uptown. Enjoy the day at Romare Bearden Park on Church Street; the Music Box Lunch Series adds to the festivities. Or if race cars hold more appeal, Wish Upon a Star Parties can come to your home with the Racing Double Whammy Show that includes balloon twisters, magic, kid tattoos, games and a costume change into their racecar mascot.
AGES 5-10
At the Speedpark in Concord, kids can ride go-karts on the Junior Racer track, the Pro track and the Racers track, as well as take monster truck rides. Or visit the Charlotte Motor Speedway for the Feel the Thrill Tour, which offers fans a close-up look at the NASCAR Sprint Cup Series Garage and Pit Road. Pictures in Victory Circle and a van ride around the Superspeedway.
AGES 11+
Tear it up at Grayson SkatePark with a few of your closest friends. The 13,000-square foot facility, owned and operated by the Mecklenburg County Park and Recreation Department, can be rented for your next party. It provides elements for beginning skaters to those with more extreme experience. A street course has banks, transitions, rails and ledges, while a multibowl caters to the bowl/vert crowd. The SkatePark is located next to the Naomi Drenan Recreation Center on Beal Street.