5 Ways to Write Your Child a Love Note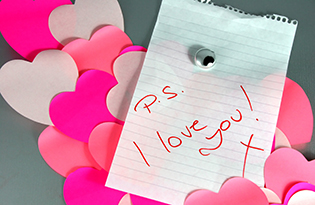 Valentine's Day isn't just for parents. Here are five ways to write your child a love note from 21 Ways to Connect With Your Kids by Kathi Lipp (Harvest House Publishers, $11.99).
1. Start a family mailbox. Set up a basket, pad of paper and pen and put it in a central location. Start with notes of encouragement and end with questions to encourage responses.
2. Welcome your child home with a note. Use dry-erase markers to write "Welcome home! I love you!" on a dry erase board or china plate.
3. Send a note in your child's lunch. Your child is never too old for this and will appreciate you taking the time to write it — whether he admits it or not.
4. Write an acrostic using the letters of your child's name. Hang it on her door or the refrigerator so your child can see how great you think she is.
5. Write a list. Jot down the "top three reasons I love you" or the "top five reasons our family is the greatest."