5 Ways To Preserve Your Child's Artwork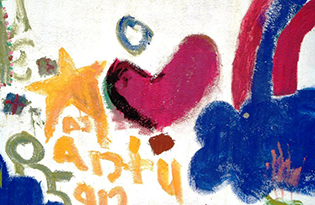 It's too wonderful to throw away but the sheer volume of it is taking over your house. It's not trash or clutter or knickknacks. It's your children's colorful, imaginative…dare we say genius works of art. What to do with it all? Here are several ideas that will save space and jumpstart your own creativity.
1. Turn it into jewelry.
Send your child's masterpiece to a company such as KidzCanDesign, which will send it back re-imagined as a sterling silver necklace, bookmark, or keychain. kidzcandesign.com.

2. Create postage stamp art.
Scan a piece of artwork or take a digital picture of it and upload from your computer to a website such as pictureitpostage.com. You'll get real U.S. postage stamps designed by your child printed on 8.5-by-5.5-inch sheets. Want more? Moo.com lets you create personalized postcards, sticker books, notecards and calling cards with children's art.

3. Pop art.
Create a Warhol-esque piece of pop art. This idea works best with a single image, a face or a thing, and turns it into a multipanel stunner to hang on the wall. photowow.com

4. Personal puzzle.
Develop a puzzle from your child's painting by simply cutting it into age-appropriate shapes. Or produce a deck of playing cards with your son or daughter's design on the back at snapfish.com.

5. Get high-tech.
Tag and organize artwork by date and grade with artkiveapp.com. Store and share her sketches on a free personal website such as art-3000.com.