5 Ways To Keep Kids' Minds Busy When They're Home Sick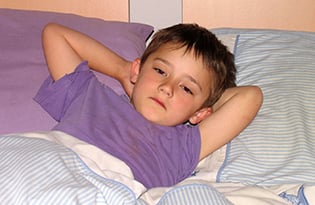 When kids are home sick with the sniffles, or on the mend but can't go back to school due to school policies, follow these tips to keep their minds engaged.
1. Have a box packed with activity books, markers and art supplies that he doesn't play with on a regular basis.
2. Talk to your child's teacher to pick up worksheets or books that help keep him from falling behind on class work.
3. Find an educational documentary hey can watch to stimulate his mind and introduce him to something new.
4. Pick up some new books, a comic book or find a new easy e-reader for him to relax and read, or take a break and read to them.
5. Bring out the blankets, pillows and chairs to build a special fort where they can read and recuperate.