5 Ways to Help Your Child Learn to Love Reading
Tips for putting a book — not a screen — in your child's lap.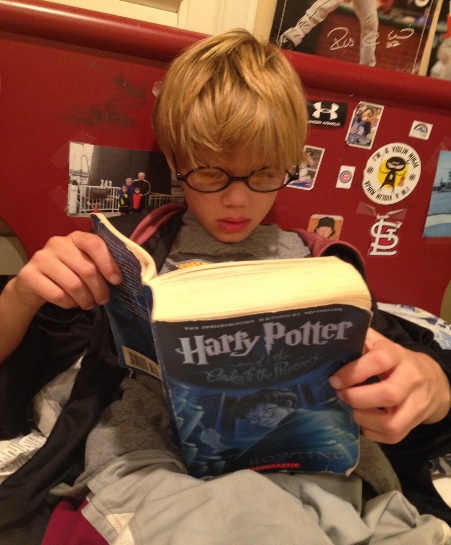 Teaching children to become lifelong readers is a challenge in this digital age of instant entertainment where there is a screen, instead of a book, in the lap of every child. Because reading is the No. 1 marker for academic success, starting that habit early is vital. Be on the lookout for new opportunities and ideas to encourage your child to learn to love to read.
Here are some tips to get you started:
1. Put down your own screen and pick up your own book.
Remember that our children do what we do, not what we say. If you want a reader, you must be one yourself. This means having a real book with you to pick up and read when you expect your child to read. Try saying, "Let's both grab our books and go read," and then follow through. Remember to read at doctors' appointments and any time you have to wait somewhere.
---
2. Read aloud.
The art of reading aloud to our children is becoming a lost tradition in our screen-intensive world, and we need to resurrect it. It is one of the best ways to spend quality time with your children. While you develop their love for reading, you embark on "adventures" together, making it the best two-for-one activity ever! Also, have your child read aloud to you sometimes; this will help you pick up trouble areas and reading struggles very quickly.
---
3. Build comprehension.
In order for your child to move from the decoding stage to the fluent stage of reading, she must learn how to understand what she is reading. Just because she can read the words does not mean that she comprehends what she is reading. Help her with comprehension by asking questions about what she is reading even before she finishes the book. Encourage her to re-read a paragraph if it didn't make sense to her. You want to catch potential comprehension problems by fourth grade so she doesn't get further behind.
---
4. Find a fun book.
Be sure to search for books that interest your child. Fantasy is a great choice for young readers as they reach immersion and learn the excitement of creating new worlds and places in their minds.
---
5. Dress up or cook up.
Nothing is more whimsical and fun than grabbing a few dress-up props when reading to help pique interest. Boys, as well as girls, will enjoy the added benefit of identifying with the character through props. Or make a recipe that relates to the book you are reading. Making the story come to life is your goal, so choose books that relate to the activities they love. Content does really matter: try to avoid bathroom humor books that all middle schoolers love; they need stories, not bad jokes, to develop comprehension and a deeper love for reading.
---
If your child loves to read, curling up with a real book will beat screen time any day. Do what you can to help this process along; you and they will reap the benefits for a lifetime!
To review some of the statistics about how much less people read today, check out our Facebook and Twitter feeds from this month. Families Managing Media – Facebook
Here are a few other snippets from our "Kids' Brains & Reading" January meeting:
Reading leads to better concentration. Many children do not choose reading because they prefer low-effort, high-reward activities. Book reading requires you pay attention. As the child builds images in his head, new ideas develop, and critical thinking and logic are used to process the information. All of this "thinking" is exercise for your child's brain, exercise not generally found on the screen where most ideas are already presented for him. The more your child's brain is trained to concentrate, the better thinker he will be.
Reading boosts confidence and makes you a better communicator. It increases your child's vocabulary which allows her to better communicate your ideas and gives her confidence in them. With confidence in her ideas, she has a stronger foundation to explore her imagination and share her thoughts with others.
Books beat screen readers for kids. The scientific research is mounting in favor of real books as young minds better comprehend words that are on paper instead of screens. There are many scientific reasons for this, one being the amount of mental resources necessary for processing screen distractions. Even college students score higher on comprehension tests when they read from a real book.
Encourage pleasure reading, not just homework reading. Don't tie all your child's reading to homework; he will never learn to love reading if it is a chore. Let him pick out some good non-school books and keep them handy in the kitchen, in the den, in the car and, of course, by his bed.
For more information this month on reading tips head over to our site at www.familiesmanagingmedia.com