5 Ways to Celebrate Your Grad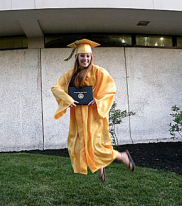 Graduation season is here. If you have a high schooler who is graduating or even a middle or elementary school student moving up the next rung of the educational ladder, consider these ideas for celebrating.
1. Make a goody basket.
If your grad is headed to college, put together basket of goodies from town of college they will attend. Consider gift cards from local restaurants – imparticularly bagel and coffee shops – a gift certificate to the student store, movies or a hair salon are all good options. Sweatshirts, mugs, and other school paraphenelia are also good bets.
2. Plan a family getaway.
It doesn't have to be an elaborate vacation (or maybe it can be), but take the time to enjoy being together somewhere away from the usual routine and distractions. How a person chooses to spend his or her free time, can drastically change after they leave the nest. With tweens and teens, consider an adventure together like whitewater raftting or ziplining. There are lots of places in N.C. to choose from for a great family getaway. Enjoying the bonding.
3. Plan a party.
A celebration that focuses on the grad is sure to make them feel extra special. A cookout with music, backyard games and close friends and family is sure to be remembered for years to come.
4.Celebrate uptown at The Ritz.
Make them feel extra special with an upscale dinner out at BLT Steak Charlotte. Through June 30, show your server the 2015 tassel and your grad eats for free, up to $75.
5. For the younger set, treat them to a special night out too.
If it's a kindergartener moving up (as is my case) we'll definitely go enjoy pizza and ice cream, two of his favorite things. If you have a tween moving up to middle school, ask them what they'd like to do. Maybe a backyard party with some friends to celebrate the end of an era and moving on to new beginnings or maybe a night at Great Wolf Lodge with a few friends.